This is my first cook in my GMG Daniel Boone cooker using a couple of my just completed rotisserie setups. I picked a nice 22 degree day here in Central Indiana.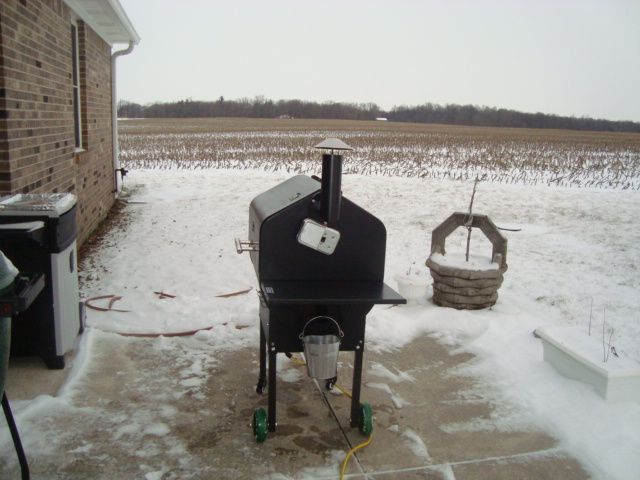 Wife had to shovel a fresh 2" snow to get the cooker to my cooking patio.

I started with two rather large whole fryers which weighed about 5-1/2 pounds each and after washing them out, I added a light sprinkle of my low carb rub.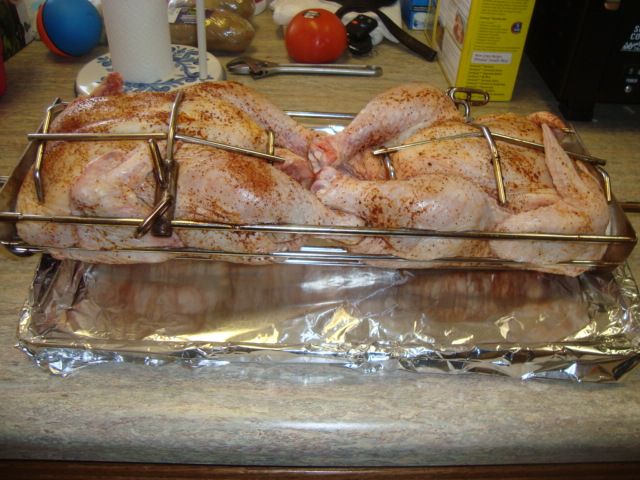 I placed the two whole chickens in my EZ-Que 6" cradle and got them locked down.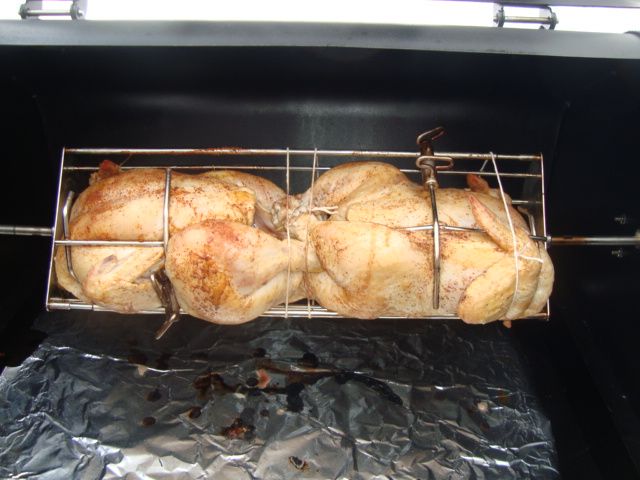 Brought the cooker up to 325 degrees and loaded the cradle into the cooker and installed the rotisserie motor. I run about 40 minutes and then started mopping the two chickens.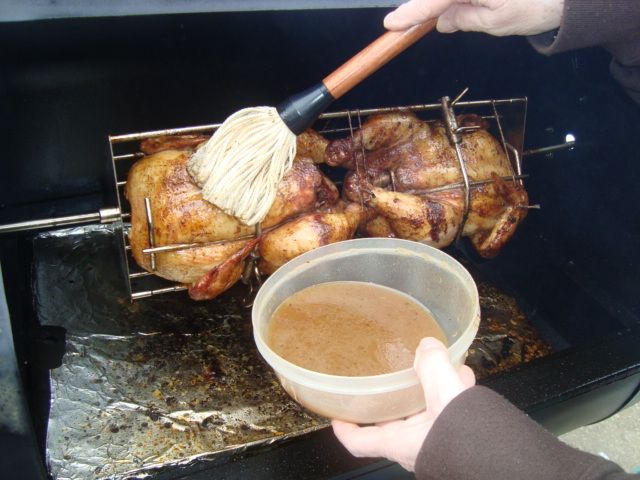 For the mop or marinade, I was using the "Roadside Chicken Recipe" and after the first mop, I mopped about every 10 minutes until the chicken was done.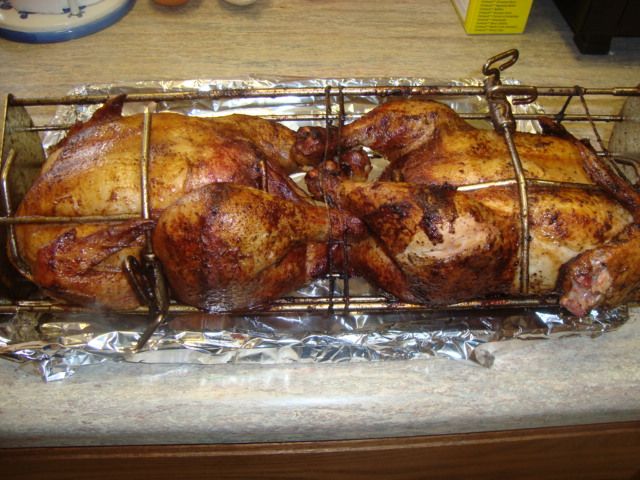 The two chickens looked good coming off the cooker.

Next step was to slab a coupe of big baker potatoes with a knife. I rubbed these with peanut oil, added some garlic salt and then cracked on some fresh black pepper. I then sprinkled on some Italian spices and placed them in my favorite standard rotisserie basket setup and got them locked down.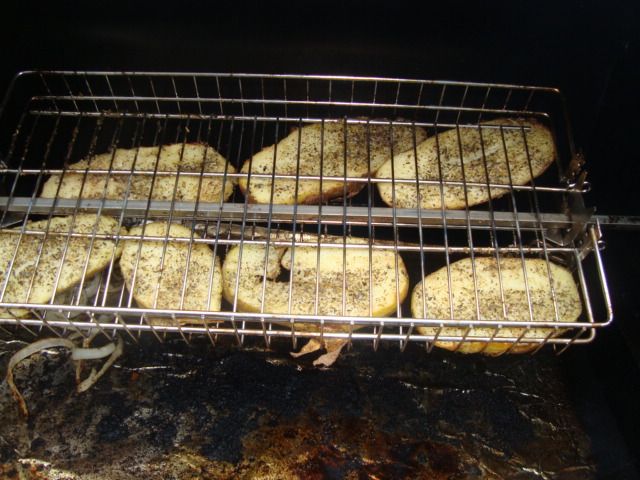 I installed this rotisserie setup into the cooker and raised the temp up to 350 degrees.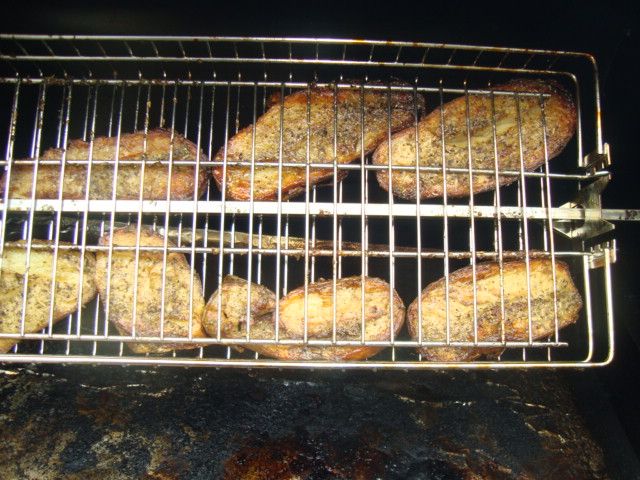 As soon as the potatoes start to brown up, I start spraying them with some canned butter spray about every 10-15 minutes until done.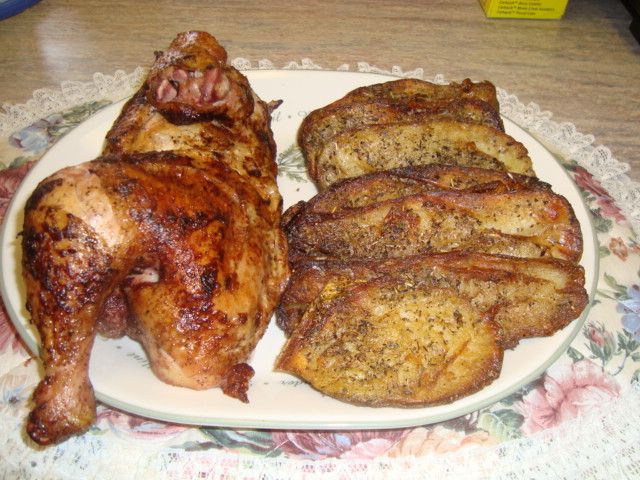 I cut one of the chickens in half and plated it with the slab potatoes and it was ready to go to the table.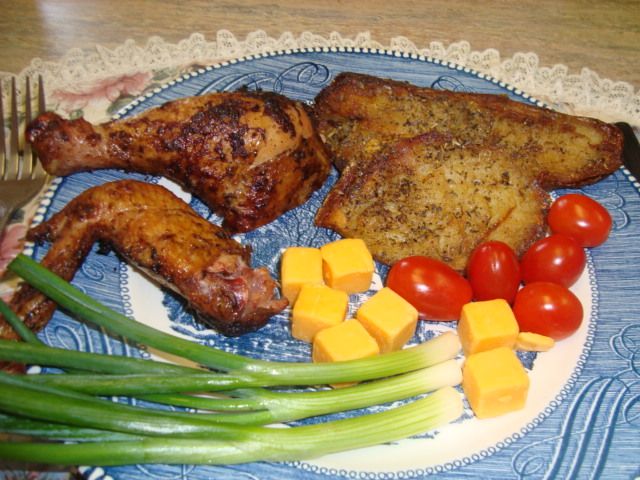 With a few veggies and some cheese, this made a fine very tasty meal.

I removed the skin from the balance of the chicken as it will be used for my "Kicked Up" pulled chicken recipe. Next step was to pull the chicken. I did set aside about 1/2 pound of the pulled chicken for some chicken salad.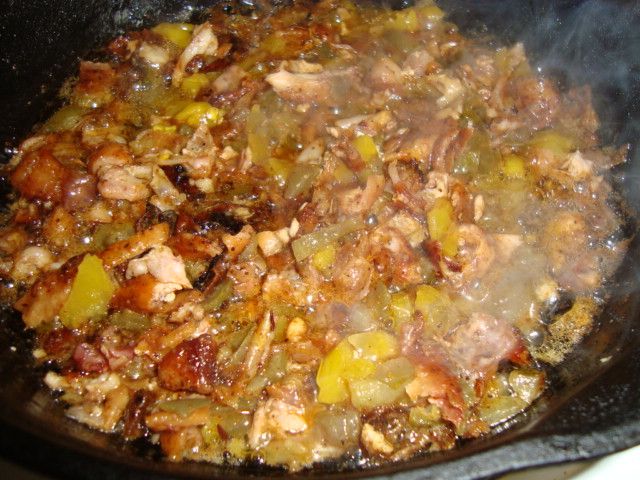 I start the Kicked Up chicken recipe by cutting a full pound of bacon into 3/4" pieces and frying it up in an iron skillet. I then drain the bacon onto paper towels. Next step is to cut all the skin into small pieces and place it into the hot bacon grease. I then add about a cup of chopped up Jalapeno peppers to the skillet. I cook this a few short minutes and then pour the contents of skin and peppers thru a strainer to remove the bacon fat. I then add my fried and chopped up bacon to the strainer, stir it up and add it to my meat.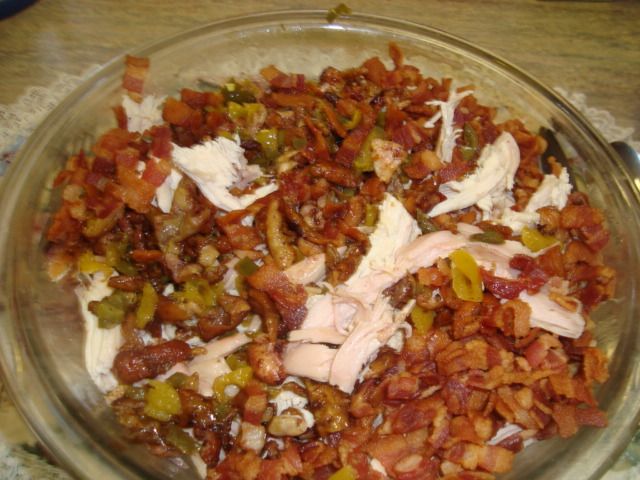 I mix it it well and it is ready to go for many different treats.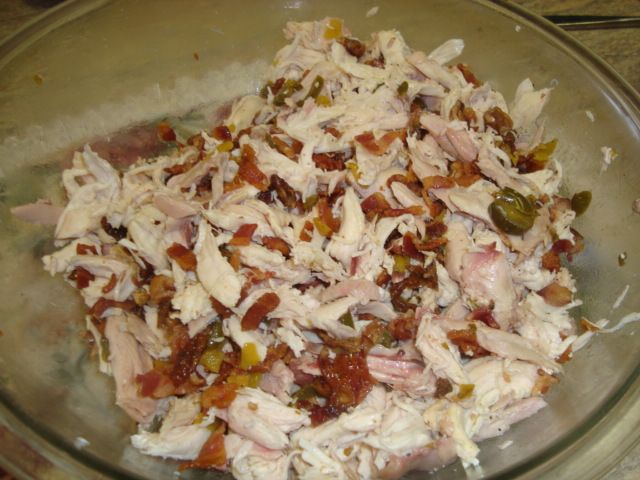 Now, that is chicken with an attitude! We usually freeze some of this when we have extra.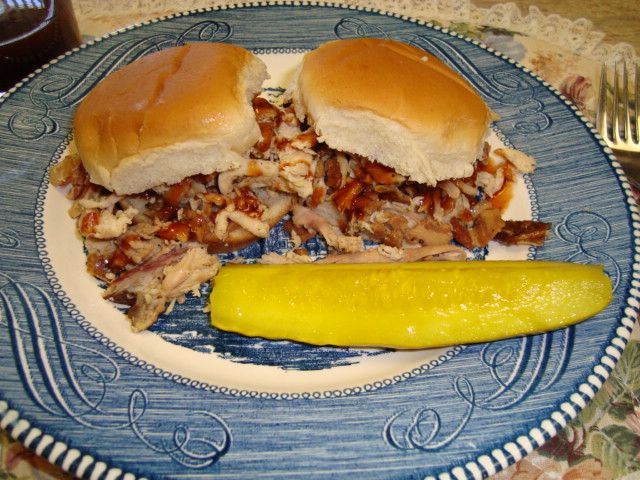 A couple of my "Kicked Up" pulled chicken slyders.

I think I can call my rotisserie setup for this new cooker a success.