I needed to cook four turkey breasts which weighed a total of 30-3/4 pound and decided to do them in my Ez-Que rotisserie setup on my Green Mountain Pellet Grill. The capacity is two breasts at a time so it will take a couple of cooks.
Meat Preparation
After I had trimmed up the breasts, I made up 32 ounces of Shake's Honey Brine and injected each breast with about 4 ounces in each side of the breast.
Next step was to place each breast into a large 2-1/2 gallon zip-lock bag and pour a bottle of Wishbone Robusto salad dressing over each piece of meat. The 4 bags then went into the fridge overnight for my combined brine and marinade period. I did turn them over a couple of times during this overnight time period.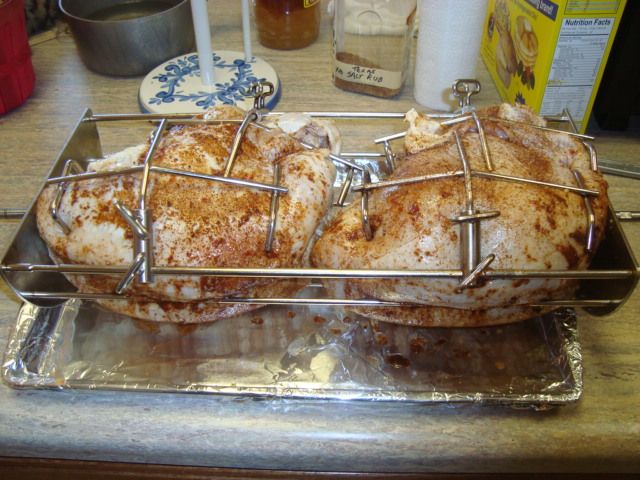 On the morning of the cook, I sprinkled on a generous coat of my no-salt and no-sugar rub and mounted two of them into my 8" Ez-Que cradle for the cook.

Cooking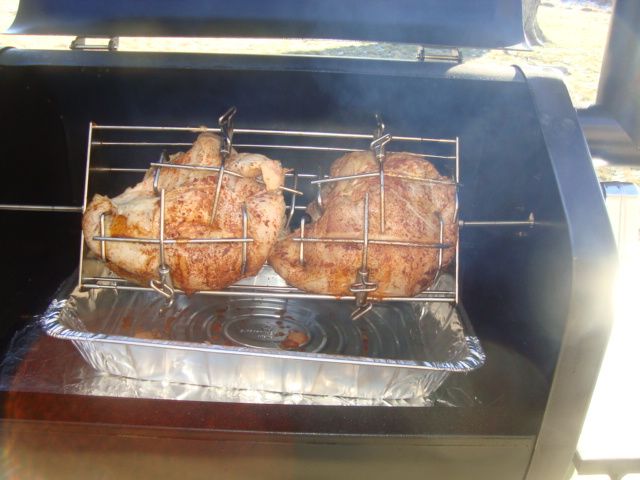 I loaded the grill with hickory pellets and fired it up and then brought the temp up to 175 degrees for my short smoke cycle of about one hour. I installed my rotisserie cradle into the cooker and got it spinning.

After about an hour, I upped the temperature to 325 degrees and started my mopping process.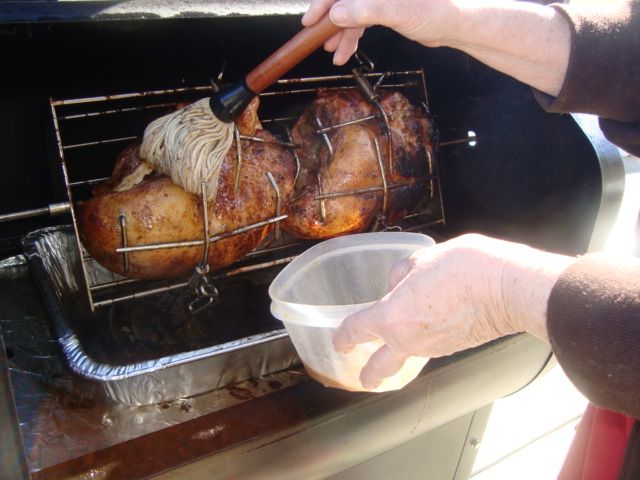 I made up some "Roadside Chicken" marinade / sauce and mopped the turkey breasts at each 30 minute interval until they were done at 160 degrees internal temperature.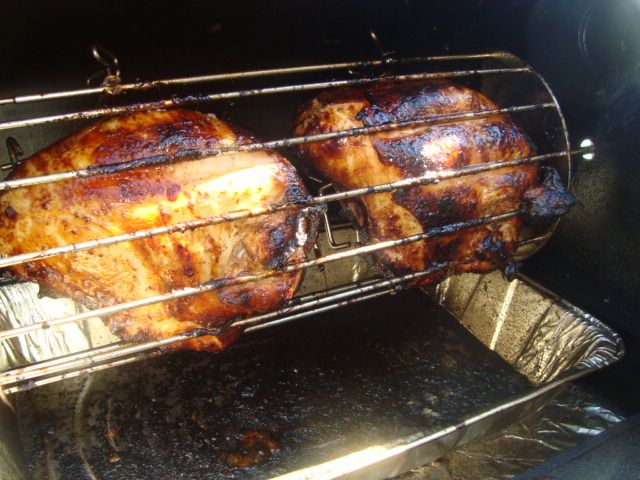 The breasts just before they came off the cooker.

Presentation

I unloaded the two breasts from the cradle onto a couple of plates and they sure looked good.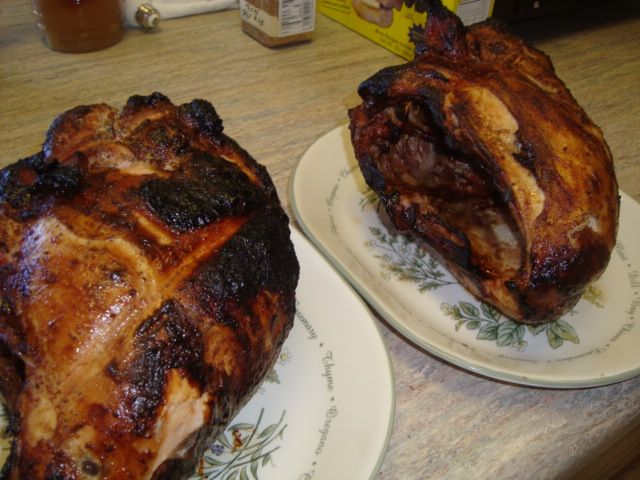 We planned to use one of the breasts for ourselves and the other three will be given to a neighbor.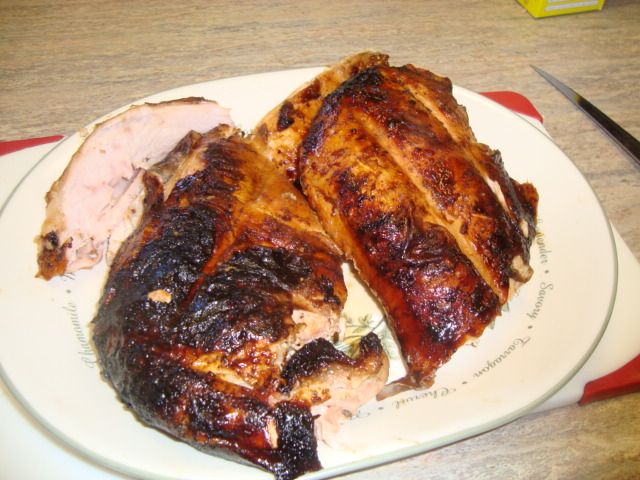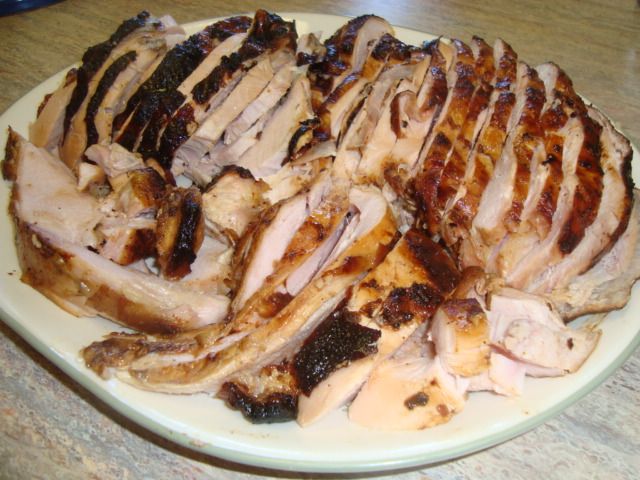 I cut the meat away from the bones on our breast and sliced it for our use.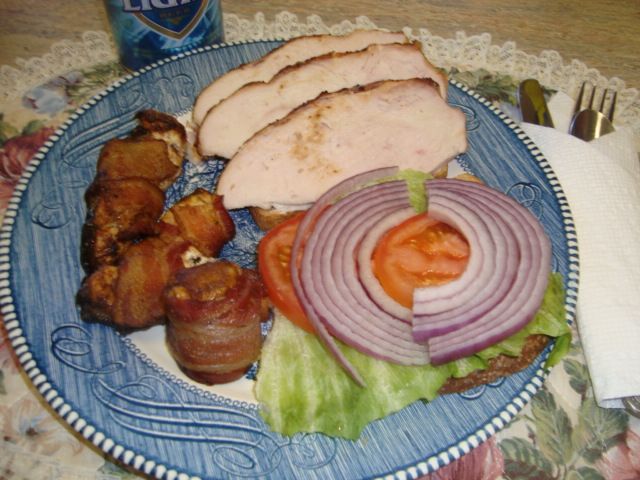 I toasted up a couple of slices of low-carb wheat bread and smeared on some mayo on one half. I then added 3 nice slices of my turkey breast. On the other piece of bread, I added some lettuce, tomato, and some sliced red onion. I then added a couple of ABT's and one Pig Shot to my plate.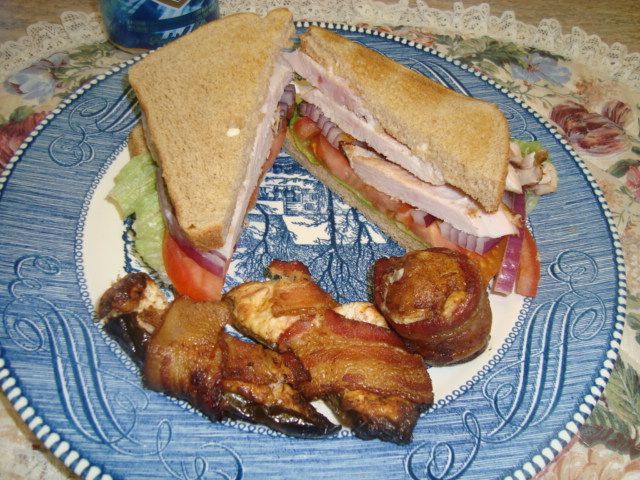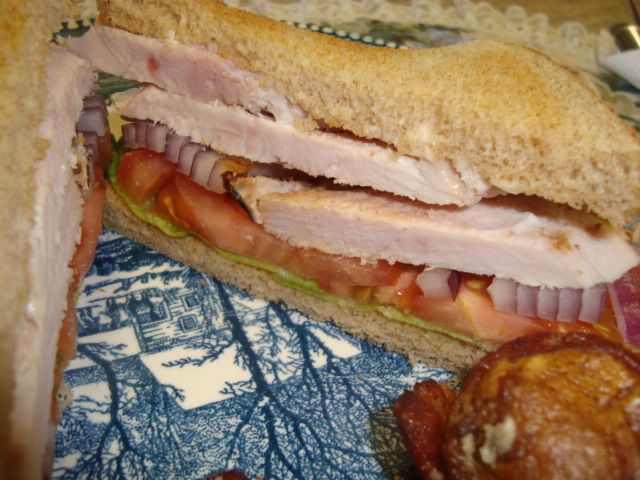 Now that's a serious turkey sandwich!

Another great rotisserie cook on my Green Mountain Grill.