This mixed cook was done a few days ago and came out well. It consisted of a 7 pound brisket flat, some of my breaded and super hot chicken wings, a few beef burgers and my eight pork burgers. Was cooked on my GMG Daniel Boone pellet cooker.
The brisket flat was trimmed up a little and then injected with Fab B Lite and covered with Smokin' Guns hot rub. It then went into the fridge for an overnight stay.
I fired the cooker up about 3:00am with hickory pellets and loaded the brisket into the cooker on a raised grid so it would receive maximum smoke. Set the temp to 170 degrees as this lower temp is less efficient and will produce more smoke which is what I wanted for the first couple of hours.
My breading for my super hot chicken wings consisted of a wash made up with egg and milk, a dry mixture of some flour and cornmeal with onion powder, garlic powder, cayenne pepper, black pepper, and white pepper.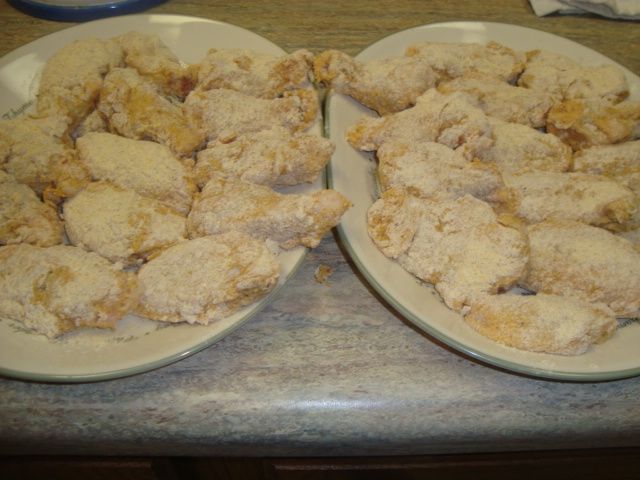 After the wings were breaded, they went into the fridge for about 90 minutes so the breading could set up and be ready for the cooker.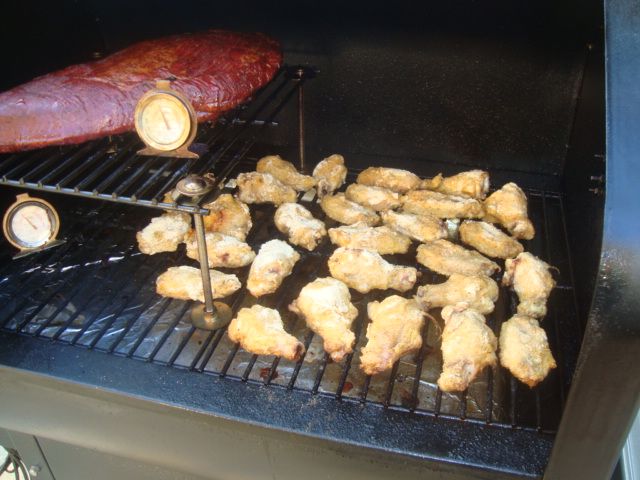 By now I had the cooker running at about 275 degrees so I loaded the breaded hot wings on the lower and hotter level in the cooker.

For my hot sauce, I mixed up about 10 oz. Frank's Hot sauce, about a half stick of butter, about 4-5 oz. of Rooster, about 4 oz. clover honey, and four tsp of cayenne pepper.
I coated the wings several times with this sauce until I ran out.

(Note) The reason I use the breading on the wings is that it will soak up much more of the hot sauce which makes this old chili head very happy.
Now, there is a plate of gold!!
Added the Grill Grates and my four beef burgers.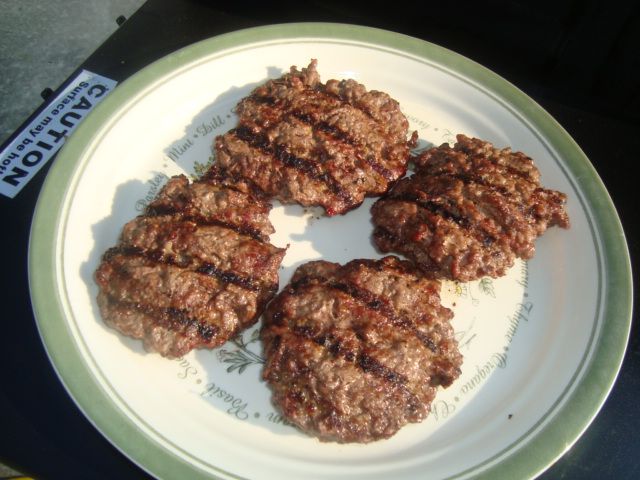 They came off looking good.
Pulled the brisket flat and wrapped it with some of Rick's Sinful Marinade and placed it back on the cooker to finish.
I then cooked my eight pork burgers and they came out looking great.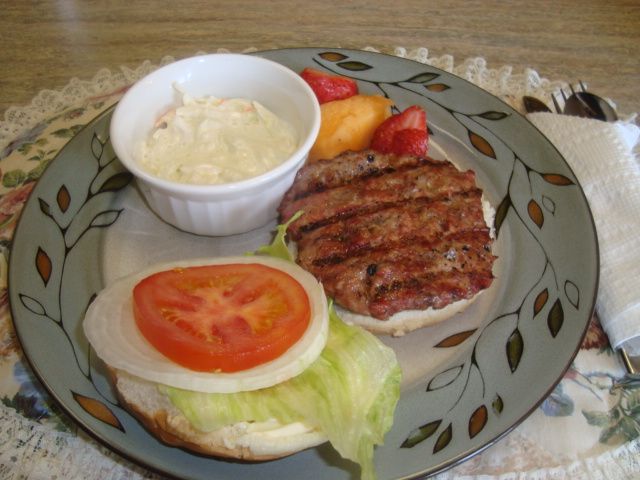 You know, I just can't get enough of these pork burgers.
I must have been in my cups as I overcooked the brisket a little but it did have a nice flavor and made a fine sandwich.