I like to fool around with simple tailgate style dishes that can be done in smaller grills or smokers and think the Mac n Cheese dish is about as good as it gets. I also did a few loin cut country style ribs and a quartered potato with this cook.
This cook was done on my Green Mountain Davy Crockett pellet grill.
This Mac n Cheese recipe is very rich and is done from scratch without cooking the macaroni first. You just throw it all in a pan and then on the grill.
Ingredients:
3 cups elbow macaroni
1/2 stick butter
4 cups whole milk
2 cups heavy whipping cream
1 8oz package of shredded sharp cheddar cheese
1 8oz package colby jack cheese
salt
fresh cracked black pepper
tin foil half pan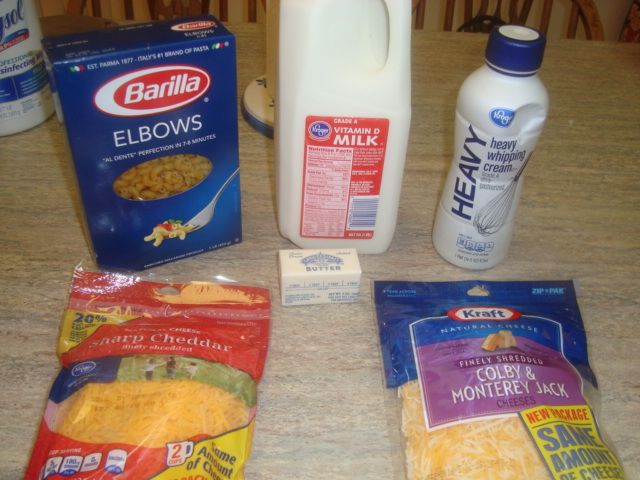 These are the ingredients I started with.
I just poured the 3 cups of elbow macaroni into my pan.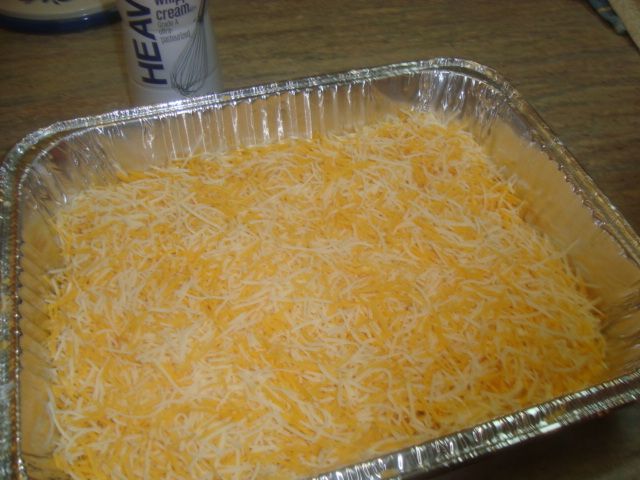 Added the melted butter over the macaroni and then the sharp cheddar and colby jack cheese.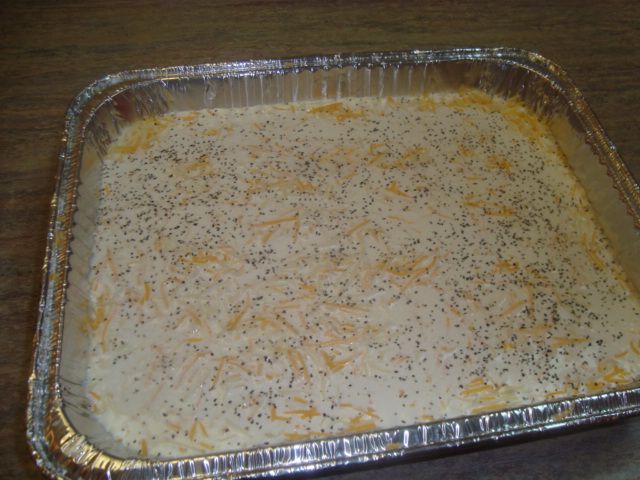 Added the whole milk and the heavy whipping cream and then the salt and pepper.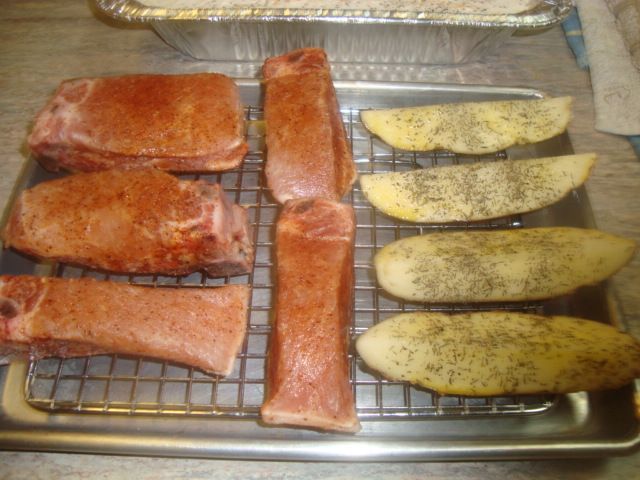 I sprinkled on some SGH rub on my loin cut country ribs and then brushed peanut oil on my quartered potatoes and then added salt, pepper, and thyme. To be able to use a half pan in my Davy Crockett, I have to have it on my lower grid as it is too large for the top grid. Since I didn't want any drippings going into my Mac n Cheese, I had to use a pan for my ribs on the upper grid.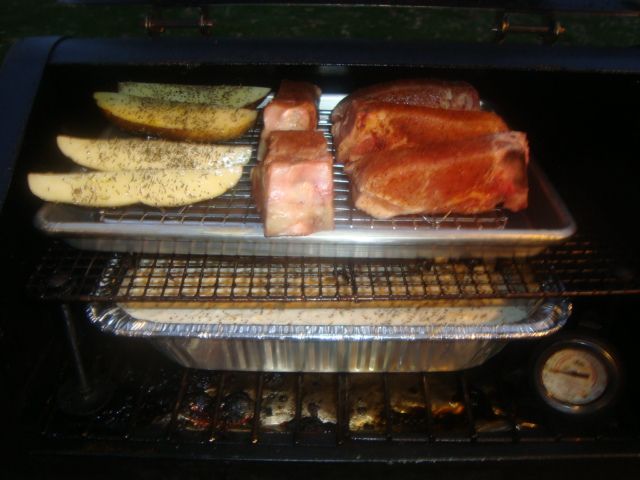 I fired the cooker up and brought it up to about 250 degrees measured on the lower grid and then let it go thru a few cycles to be sure it as burning clean. I just want to add a hint of smoke to this dish. I loaded my three treats on the cooker.

I stirred the Mac n Cheese at about 1 hour into the cook and then at about 1-1/2 hours and found it about ready. I let it go a total of about 1:45 hr and it was done to my liking.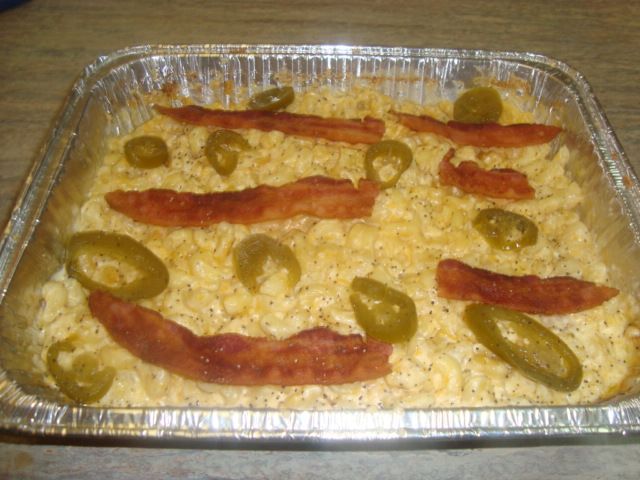 The Mac n Cheese just off the cooker....I like bacon and Jalapenos in my Mac n Cheese so I added that for the picture. I then crumbled the bacon up and stirred it into my dish.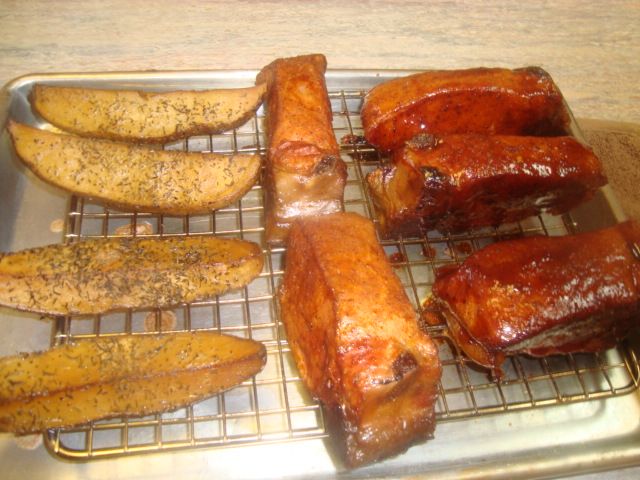 I glazed three pieces of the country ribs with BH Smokey Mountain for myself and left two of them dry for my bride.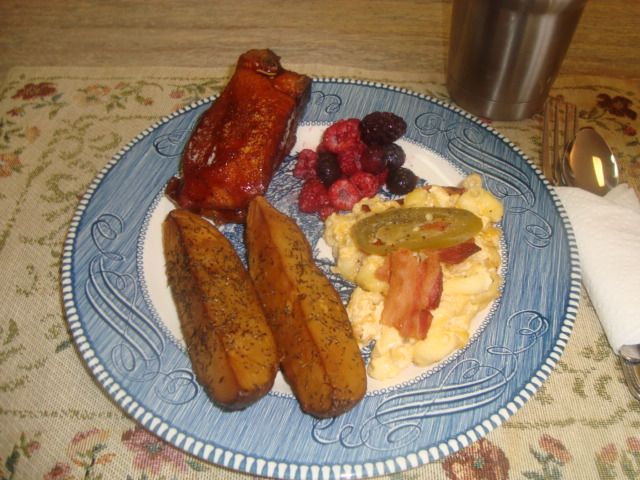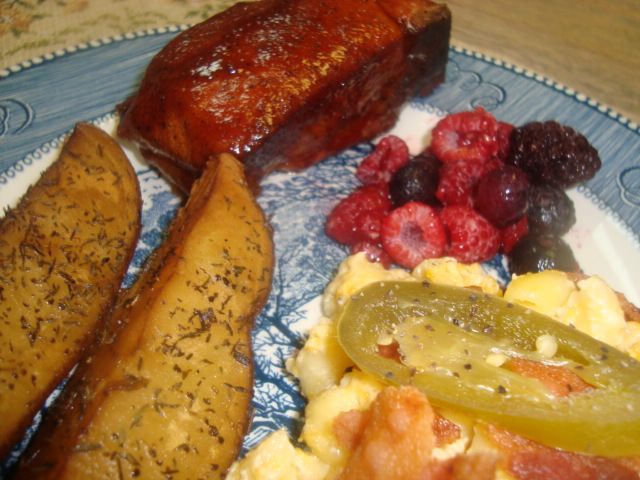 Served it up with some fruit and it made a nice meal. The Mac n Cheese was wonderful and just so simple to make. We froze about half of this recipe.