Still learning how to cook on this new Cobb Supreme grill and this is my latest try in baking pizza on the cooker.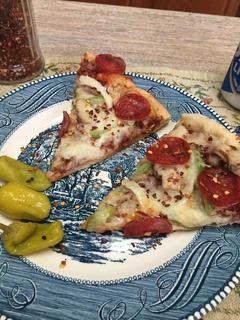 This was a two pizza bake on my new Cobb Supreme and it sure came out well. This first pizza was baked on a 12" in diameter Pizza stone which is the largest hearth stone that will fit in the cooker. My planned second pizza will be on the very high quality Cobb Pizza Stone which I will change over after this first bake. This second Cobb Pizza Stone measures 10-1/2" in diameter and was designed for the smaller Cobb Premier cooker.
This is my first bake on this cooker and I really loaded up the goodies on this first pizza. This pizza took 27 minutes to get done and this cooker is just a dream to bake on as compared to my Premier in my opinion. Very easy to get to the higher temperatures that I like for some real hearth baking.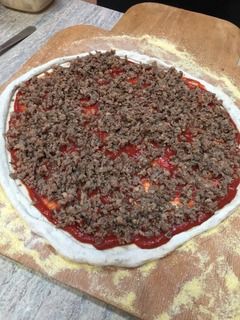 I used some homemade dough that I had made and placed in the freezer about 2 months ago and after I formed it up, I added the pizza sauce and then some hot and spicy sausage.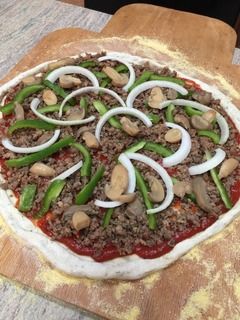 Next up was some onions, bell peppers, and some mushrooms.
Added plenty of mozzarella cheese and then some pepperoni and my pie was ready to go on the fire.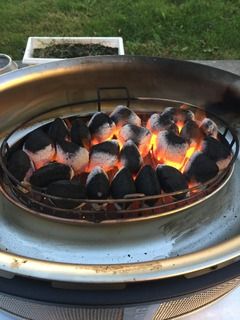 For this two pizza bake on the Supreme, I used about 23 all hardwood briquets and fired them up in the cooker.
This is the first pizza done on the Cobb Supreme. It was about a 13" pizza on my 12" hearth stone so it was kinda hanging off one side of the stone but still did bake up great.
Another nice pizza just like the first one only slightly smaller.
Pizza done on the smaller Cobb Pizza Stone and ready to come off of the cooker. It as well was really loaded up and that is the way I like most of my pizzas.
This slightly larger Cobb Supreme Grill does seem to bake quite well as shown on my first try.