This is a treat that we like to do often as it is simple and always produces great results. We plan to use this chicken as pulled chicken and we want the finished chicken just dripping wet with as much retained juice as possible. Don't want to spill any of that goodness down on the fire. Must be retained inside the chicken. Got That!!!
Ok, I had the Char-Broil cast iron grid in the cooker so I decided to use it and set the fire up for an indirect cook with a drip pan in the middle of the kettle.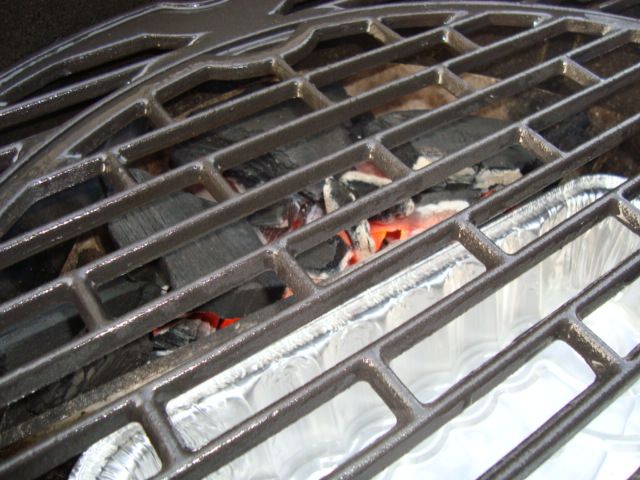 Loaded some Ozark Oak lump into the baskets on each side of my cooking area and lit it off.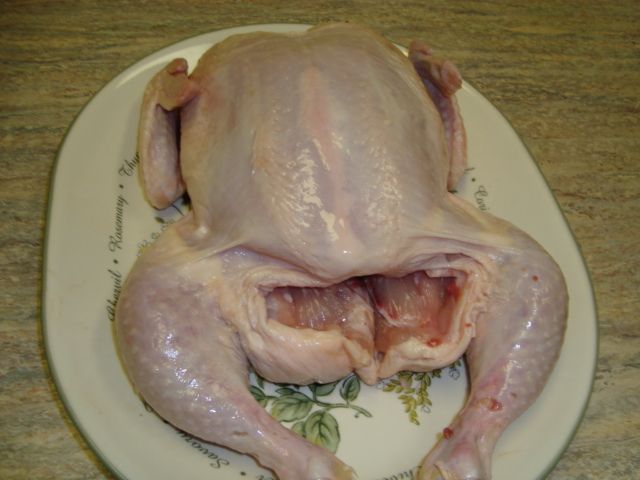 This is a fresh Bell & Evans whole chicken that hasn't been injected with a lot of salt water and seaweed and with full coverage perfect skin. We need perfect skin for this treat as the secret to this cook is in the skin.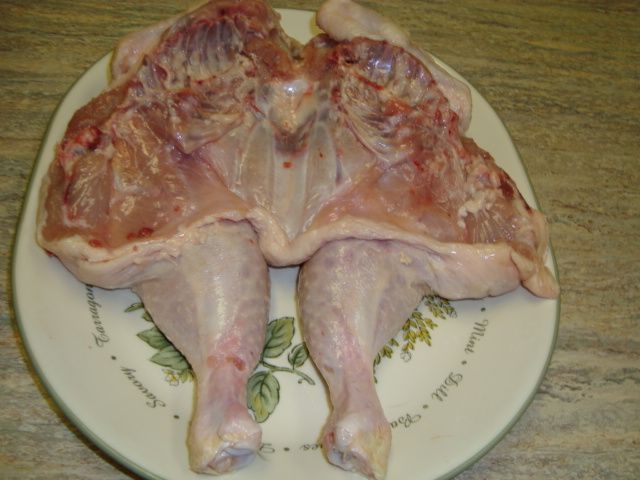 Turn that chicken over and cut out the back bone. Then break the breast bone so it will lay flat on the plate. I added some Smokin' Guns rub to this back side of the chicken and then turned it over.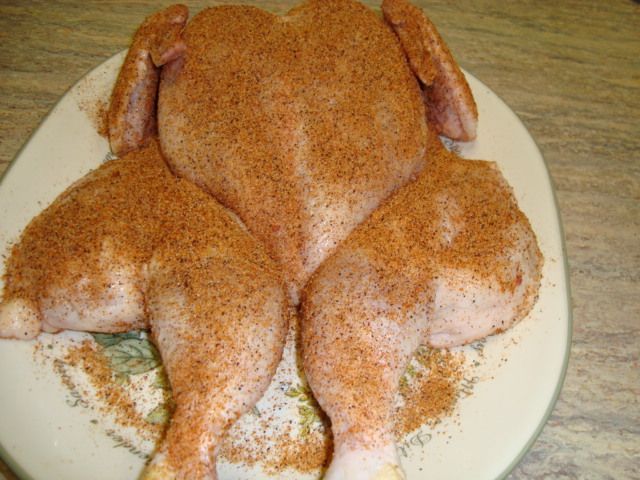 Sprinkled on more rub to the skin side and it is ready for the cooker. NOW, from this point forward, this chicken will NEVER be with the skin up during the cook. It will not be turned over again, period. SKIN SIDE DOWN.
I carefully arrange the chicken on the grid to be sure the skin has everything covered so none of the juice can get out of the meat.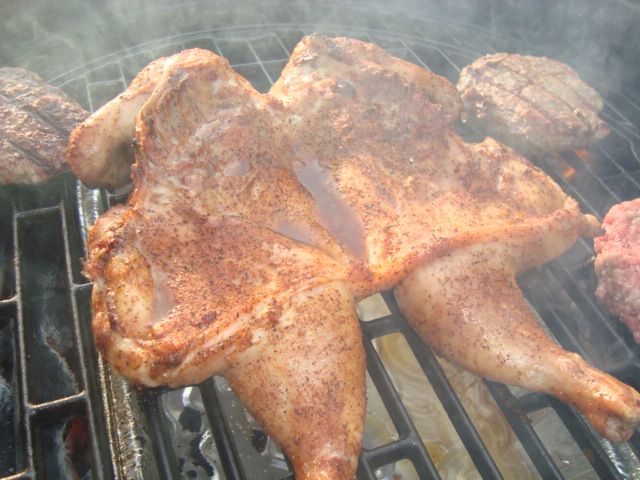 During the cook, there will be puddles of juice on top on the chicken as all that great skin is holding all this juicy goodness inside the chicken. SKIN SIDE DOWN, use that lousy old chicken skin to your advantage!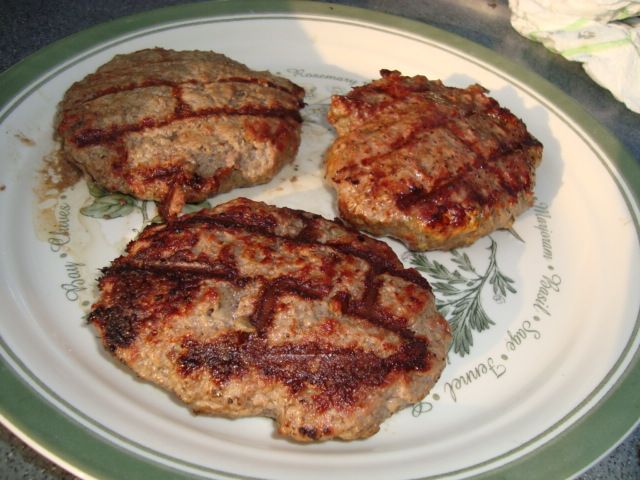 I did a couple burgers too and those Char-Broil grids left some nice marks on the meat.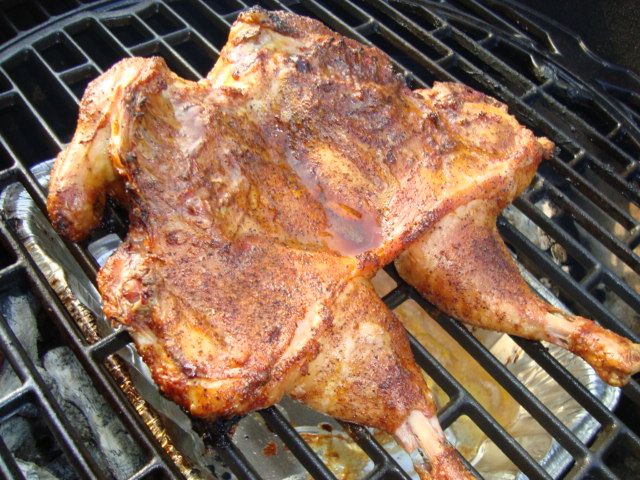 Late into the cook, I still had some puddles of juice on top of the chicken. I remove the chicken at about 165 internal measured with a Thermopen.
I take the chicken off keeping it skin side down being very careful not to spill any remaining juice. It is placed on a plate skin side down for about an hour to let it cool and absorb the juice back into the meat.
After cooling and turning over to skin side up, it still leaks some of that juicy goodness on my plate. This is one juicy chicken. Can you imagine, non-injected, non brined, non pumped in any way.....and all that goodness!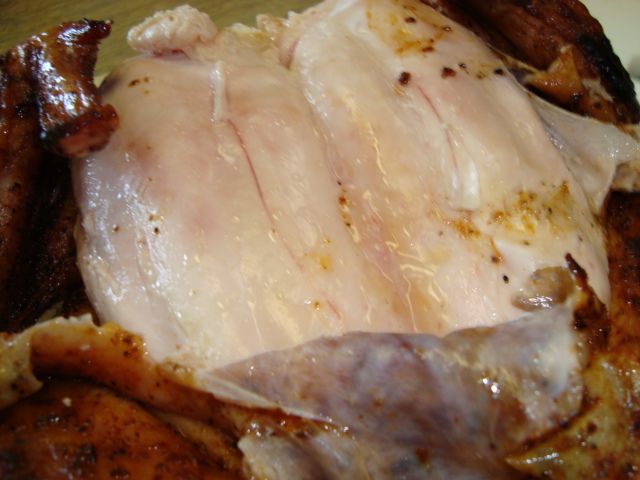 I then strip all the skin off of the chicken. Next step is to pull the chicken and place it into a bowl.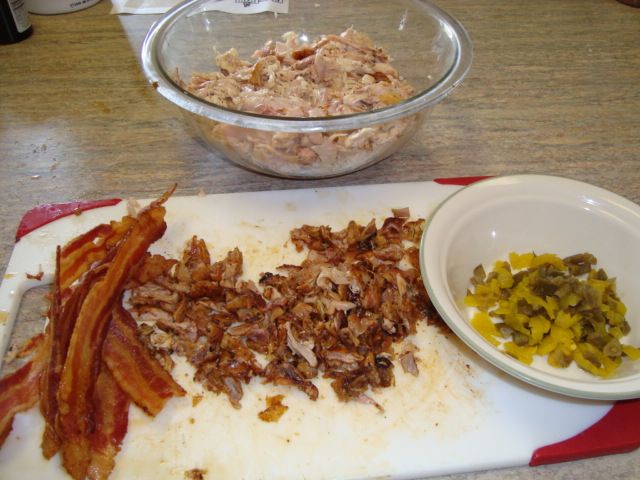 I chop up the chicken skin into little pieces, chop up about 3-4 pieces of bacon and chop up about 2 fresh Jalapeno or hot banana peppers for this treat.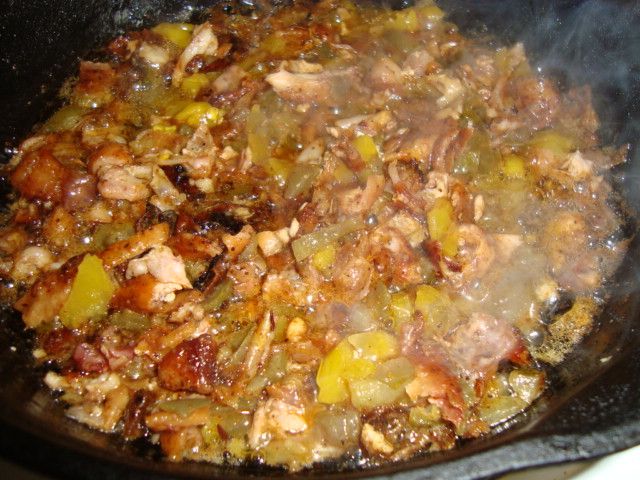 This goes into a skillet with about 2 tablespoons of peanut oil and I fry this mixture up until about crisp.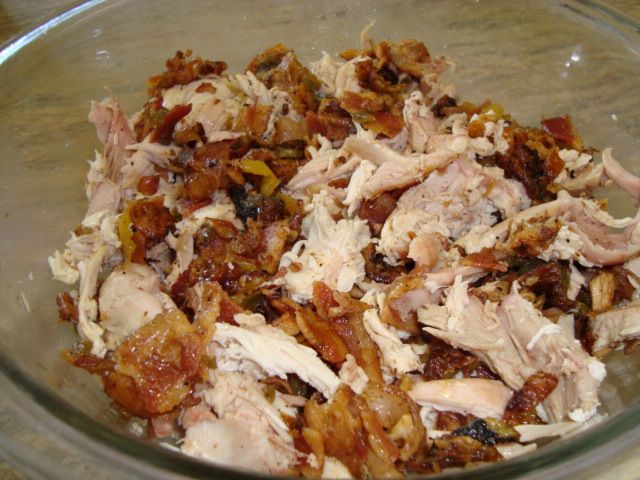 I strain the grease out and add the mixture into my pulled chicken.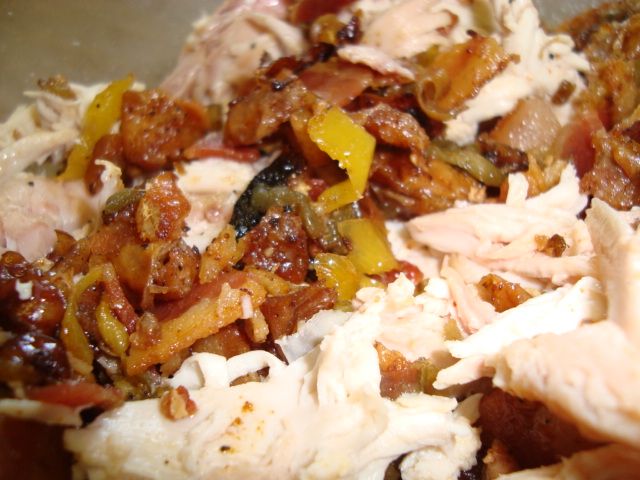 Now, this is some good stuff!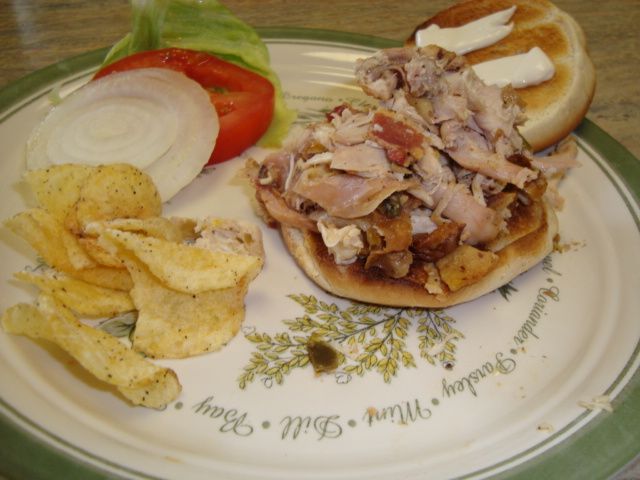 Makes a nice juicy chicken sandwich. YUM