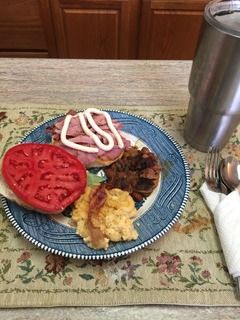 This is my most recent cook on my Cobb grill and it consisted of a large 12 pound ham and then this was followed up with a mac and cheese cook. You just gotta have mac and cheese with ham!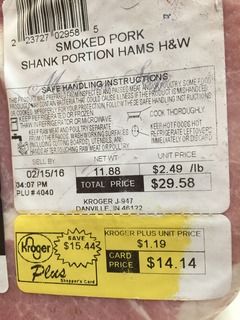 This is the largest piece of meat I have ever tried to cook in the Cobb grill. It came in at just under 12 pounds and was on sale at my local store.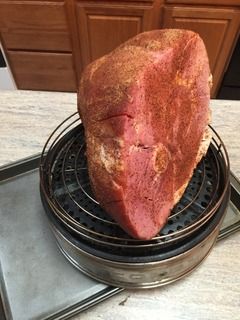 Now, that's a chunk of meat!! I used my plus 24 grill plate under the meat which will allow more convection air & heat to flow up and around the ham. I also had to use two dome extensions to have enough height to do the cook.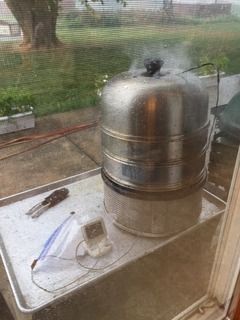 Now, to top this cook off...I did it in the rain and this is a picture shot thru my kitchen window.
I started with 21 all hardwood briquets in my small Weber charcoal chimney and then added a couple of hickory chunks to the top of my fire. I also had to add charcoal two more times during this part of the cook.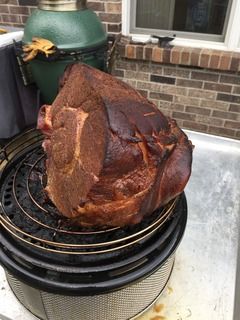 The ham is done on the cooker. It took about 4-1/2 hours to complete this part of the cook.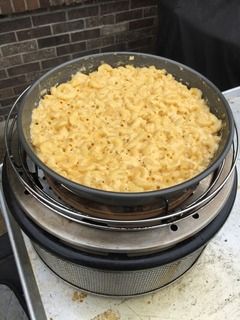 The Ez-Mac is an all in one dish and doesn't require cooking the pasta in advance. Just throw it all in the pan and cook away...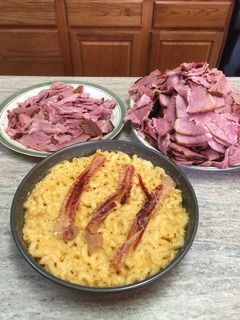 These are the results of my cooks.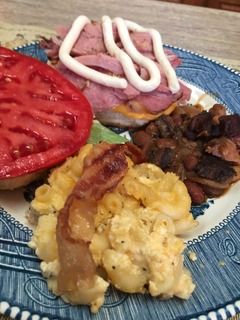 I melted some cheese on my bun half, added the ham, a slice of lettuce, a nice big slice of garden tomato, and then topped it with some horsey sauce. Served with my Cajun Beans and some of my Ez-Mac (Mac & Cheese).