This thing has been talked about for many months and has finally arrived and I purchased mine for $18.00 dollars plus shipping from Cobb Grill America a few weeks ago.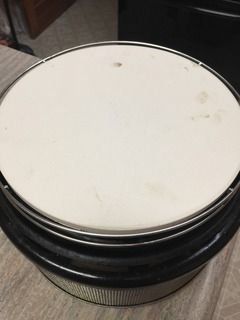 It is designed to fit into the Cobb roasting rack on the Premier cooker.
The new Cobb Pizza stone is about 7/16" thick with four feet and is a very nice accessory if it will do a good job with pizza. It is very wide and doesn't have very much room (7/16") between the stone and the dome cover for the heat to come up around it to cook the top of your bread and pizza. It measures about 10-1/2" in diameter. Everything about this new hearth stone is quality.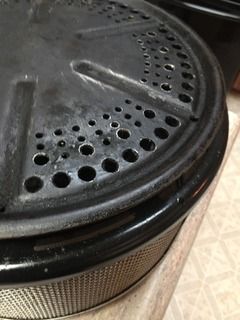 Having done a lot of baking on this cooker, I knew it might be difficult to make this stone work as expected. To help with this first bake, I used my modified cooking grid which has 24 extra larger holes in the outside edge which will help getting some heat and smoke up around this very large stone to help cook the top of my bread and pizza.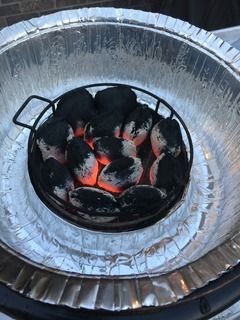 I started with the maximum amount (13) of all hardwood briquets for this first bake.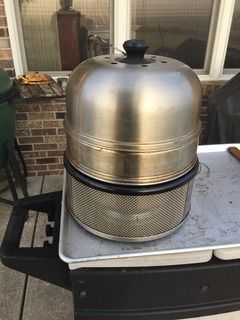 I decided to use a dome extension for this first pizza attempt with the new Cobb hearth stone. I figured that to keep the bottom of the pizza from burning before the top got cooked, I needed to get my hearth stone up and a little higher from the fire.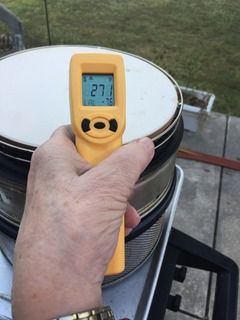 I let the stone heat up for about 20 minutes and then checked the temperature on the top of the stone and found it at about 270F degrees and I also had a probe in the top of the cooker and it was registering about the same, and I had an oven thermometer inside on the stone and it as well was about 270F degrees. That sure seemed low to me for baking but that was all I could get out of the cooker with this large stone. At this point, I was wondering if I could get a good pizza off of the cooker at this low temperature.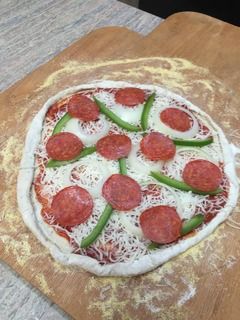 I made up a very simple pizza for this first try with just sauce, cheese, onions, bell peppers, and pepperoni.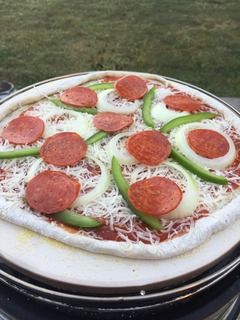 Loaded my first pizza onto the Cobb and started the bake.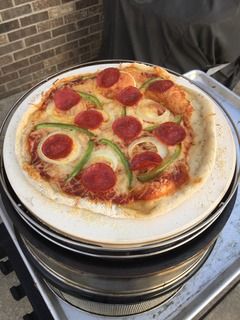 It is done on the Cobb grill and ready to come off the cooker. It took way too long to bake at over double the time of a normal pizza bake as I couldn't get enough heat up and around this very large hearth stone to bake a good pizza.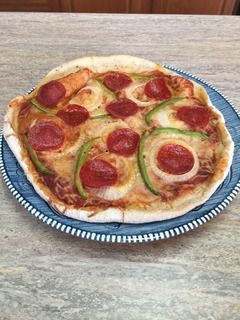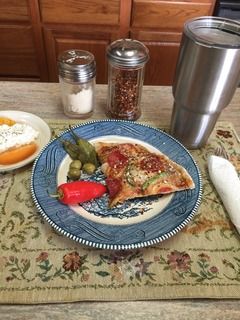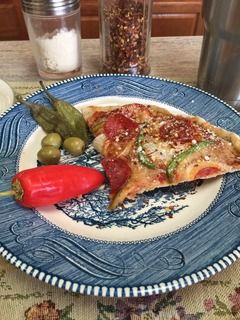 I did get a pretty good pizza off of the cooker with the kinda crispy crust I wanted but this was a very simple pizza without much goodies on it. There is just no way this stone will work very well with the average pizza cook. It's just too big in diameter for the cooker. I'll bet the engineer designed the hearth stone on a Friday afternoon after spending too much time in a pub for lunch!
I wouldn't recommend this stone for the Cobb Premier but it is a great hearth stone which I will use in my small Big Green Egg and my small Weber kettle.
A proper sized hearth stone for this Cobb Premier shouldn't be over 9" in diameter and will produce wonderful pizza, breads, cobblers, pies, cakes, and other baked treats.