The next cook in my New Cobb Supreme were some scorching hot chicken wings.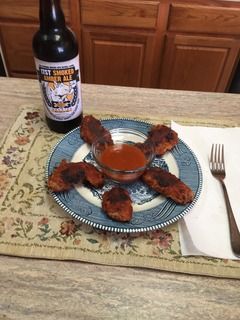 Now, would you believe that I had this for breakfast. A fellow needs a good solid breakfast with juice and some meat!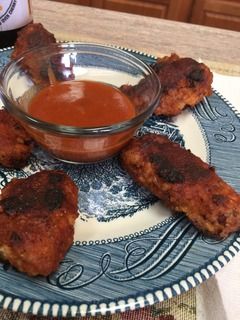 I like the hot Buffalo wings breaded as I can get much more hot sauce on them this way. These wings were sauced 4 times during the cook.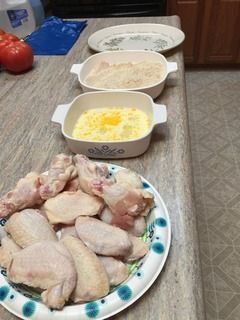 Used an egg and milk wash and the breading consisted of black,red, and white pepper, onion powder, garlic powder, and a mix of corn meal and flour.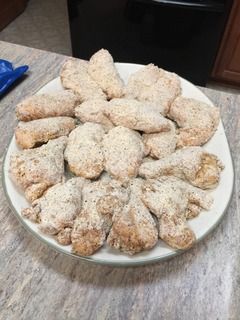 I like to bread the wings and then place them in the fridge for about an hour before the cook. Gives the breading time to set up a little before the fire.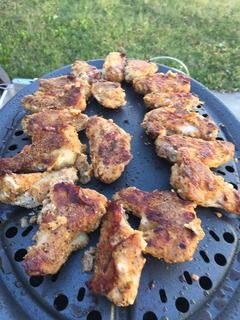 You think that Supreme doesn't cook evenly?? Just look how nice the wings are cooked just before we started applying the hot sauce.
I used 14 all hardwood briquets for this cook and it took about an hour to get the wings done.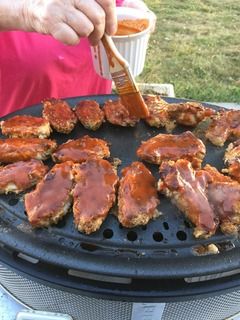 My sauce mix includes some Frank's Hot Sauce, some melted butter, 1/8 cup honey, 1/8 cup rooster, 4 TBL Tabasco, and about 1 TBL of ground cayenne pepper.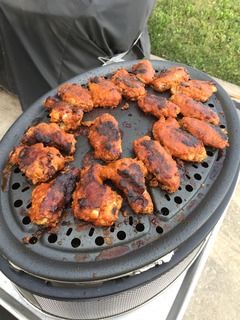 Ready to come off of the Cobb Supreme as they are done.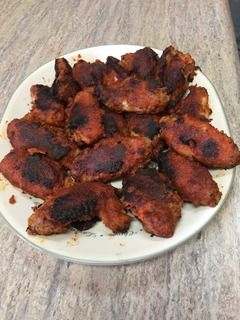 Now that's a beautiful plate of hot wings in my opinion.