Me and my bride had some wonderful jerk chicken at the Ohio Gathering made up by Mr. TentHunteR (Cliff) and I decided right then to try a recipe of this great treat the next time we did some chicken.
As a "chili-head", I found what I thought was a great sounding recipe by Malcom Reed but of course, I wanted to make up a recipe where I could easily control the heat so my bride could eat her chicken as hot as she could stand it and then I can layer on some more hot stuff for my pieces. I did make several changes to these recipes to suit my style of cooking and also the amount of heat we wanted in the final results.
Ingredients for the basic Jerk Chicken recipe. For 7-9 pieces of chicken.

Marinade

3-4 green onions (diced)
1-2 Habanero Peppers (diced)
3 large cloves of garlic (chopped)
1/3 of a medium size onion (chopped)
1 TBL fresh thyme leaves
1/4 cup fresh lime juice (about 3 limes)
2 TBL soy sauce
3 TBL olive oil
1 TBL salt
1 TBL brown sugar
1 TBL Jerk Seasoning
2 tsp fresh cracked black pepper

Combine all the ingredients into a blender and puree until smooth.

This is all that is needed for a great tasting jerk chicken.

Here is what I used to heat it up to suit me.

Final Glaze

3-4 green onions
4 cloves of garlic
3 habanero peppers
1 TBL minced fresh thyme
1 TBL Jamaican jerk seasoning
2 limes juiced
1/2 cup hot ketchup
1/2 cup pineapple juice

As above, place all ingredients into a blender and pulse a few times but do leave it a little chunky.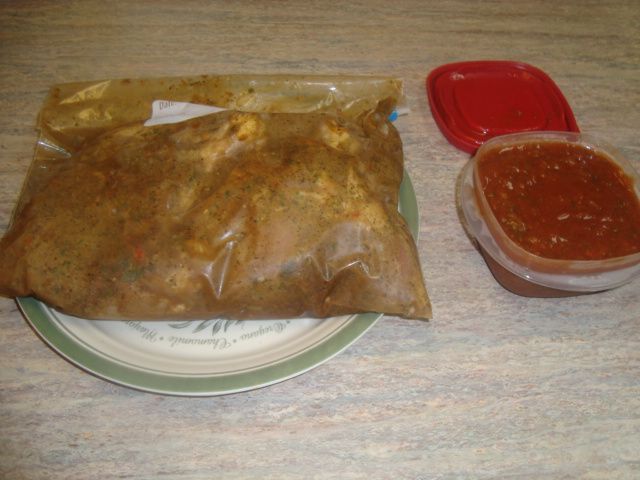 Place the chicken into a gallon size freezer bag and pour the marinade over it and fridge for about 10-12 hours. The chunky glaze also goes into the fridge for the chili-heads.
The chicken just out of the fridge and ready for the cooker.

I decided to do this cook in my Weber Jumbo Joe so I fired up about a 1/2 chimney of charcoal and poured it into one Weber coal basket. I then added the cooking grate and one grill grate to sear my chicken pieces.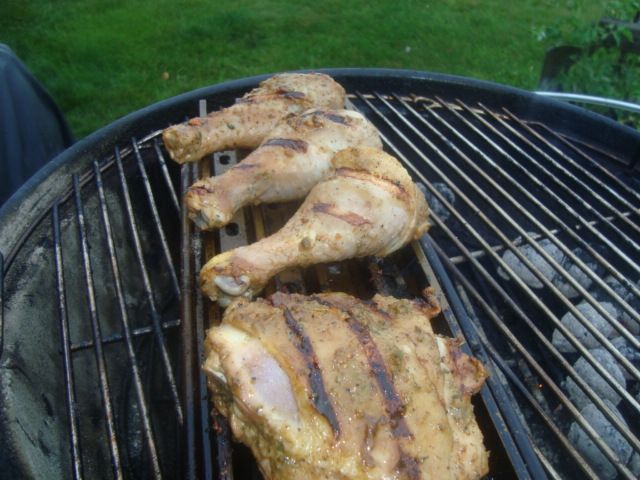 I seared the chicken pieces about 3-4 minutes a side to get some nice sear marks.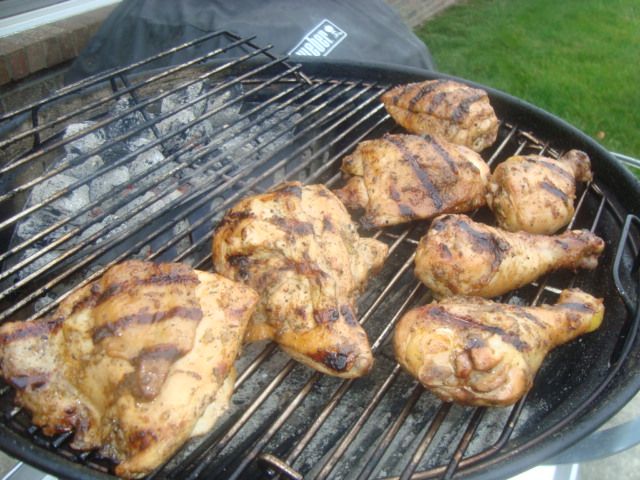 The pieces then went on the indirect side of the kettle to finish cooking. I took them (the kinder-milder recipe chicken) to about 170 internal to finish them up.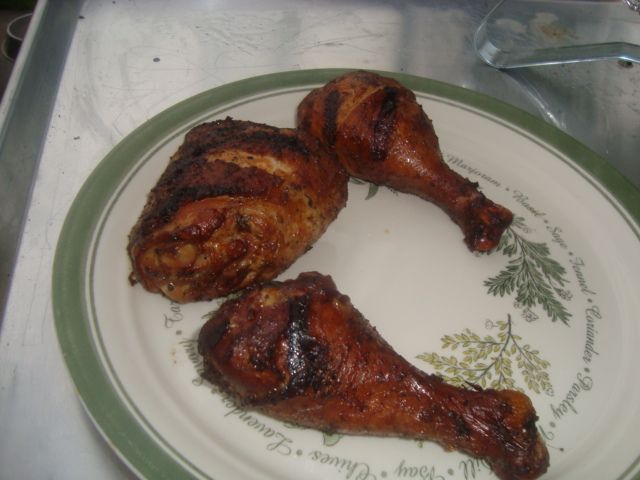 They looked great coming off of the cooker.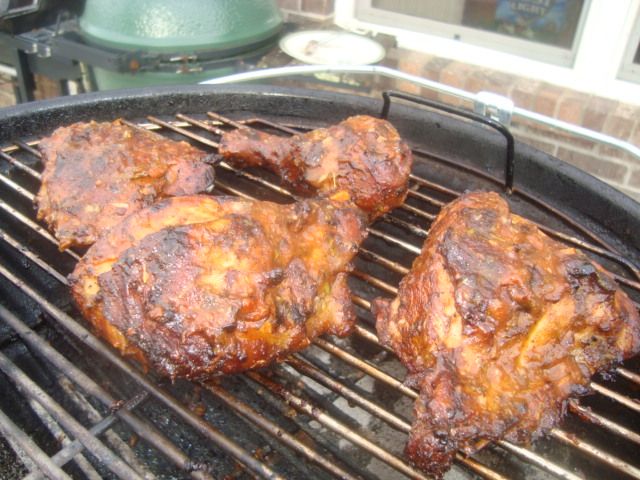 I glazed my pieces a couple of times with the chunky glaze and pulled them at about 175 degrees internal.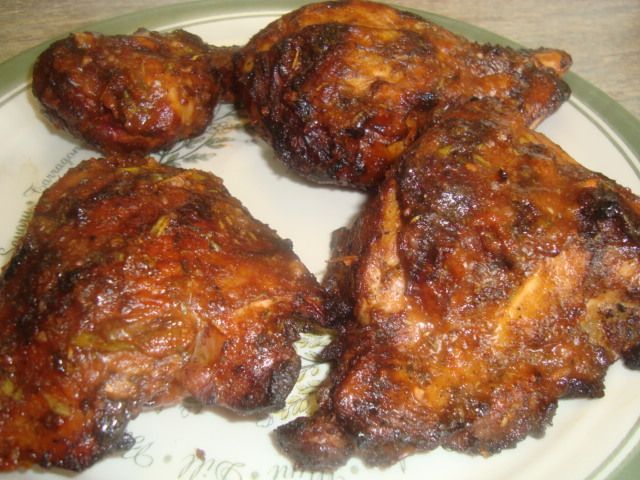 My super hot jerk chicken just off the cooker.

Wife made up some corn muffins and I placed them on the kettle and opened all the vents to get them baked.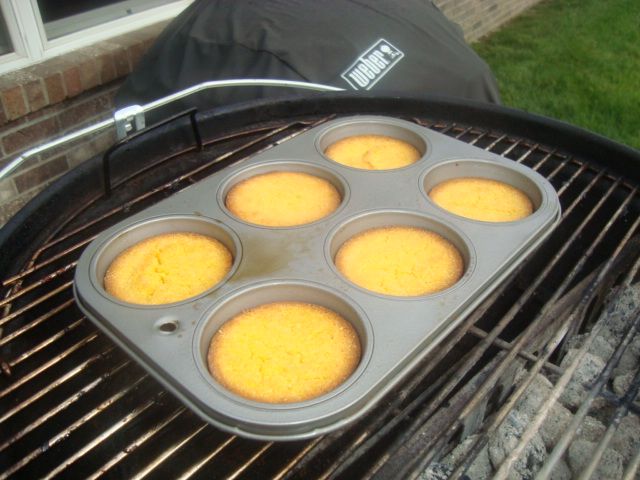 They took about 20 minutes to bake.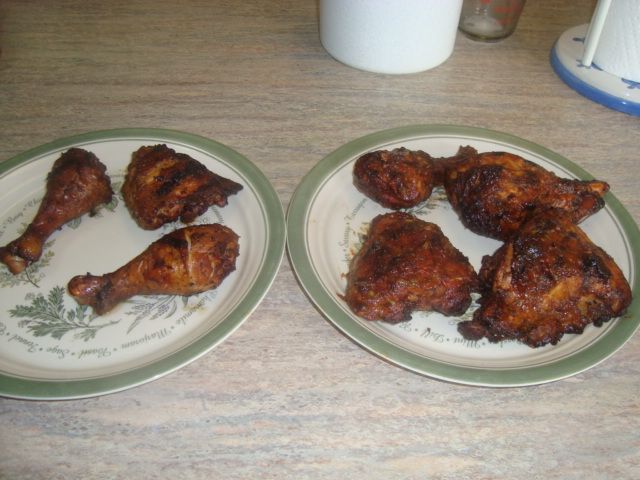 Both chicken recipes.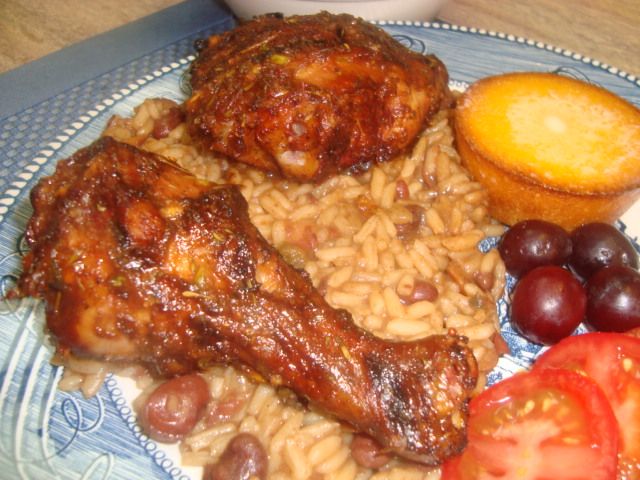 Put a nice batch of red beans & rice on the plate and then added a couple pieces of chicken. Also had some fresh kale just out of the garden seasoned with some county ham along with a pork hock. Added some fruit and the corn muffin and had a wonderful meal.