Found this recipe for "Deep Fried" chicken on the web and it had one statement that really got my attention and here is the statement:
Quote--"This is the crispiest, spiciest, homemade fried chicken I have ever tasted! It is equally good served hot or cold and has been a picnic favorite in my family for years."
So I said to myself---self, why couldn't a fellow just grill this recipe and see how well it would do as I just can't cut much grease anymore.
I did this cook on my little Cobb Grill and it came out well but a little under-spiced in my opinion. I will spice it up some more on my next cook.
The recipe has a dry mixture, a beer batter mixture, and a plain bowl of beer. The recipe is for one whole chicken.
1/2 tsp poultry seasoning
Beer batter mixture ingredients:
1-1/3 cups all purpose flour
About 1-1/2 cups (12oz) of beer -more or less as you don't want the batter too thick
Ok, to prep--the chicken pieces go into the plain beer bowl first, shake it off, dip it into the dry mixture next, dip it into the beer batter next and kinda shake it off, and then back into the dry mixture and then onto your plate.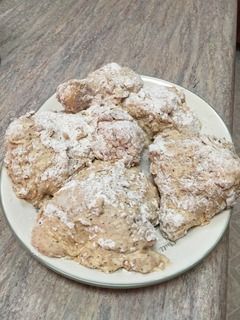 I covered my plate with plastic wrap and put it into the fridge for about an hour so the breading could set up a little before the fire. I didn't have a whole chicken but only about 5-6 pieces on this first cook as I didn't think I could get a whole chicken in pieces on the little grill.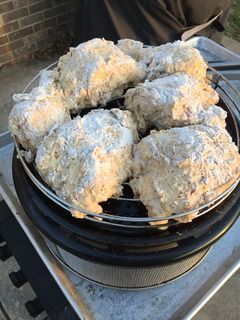 Chicken going on the Cobb Grill.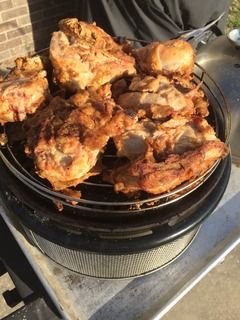 Chicken about done on the grill.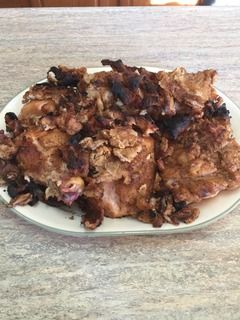 My chicken lost a little breading as I used a roast rack to help hold the chicken and some of the breading stuck to it. Would have been better to just have placed it on the cooking grid. I also think it would have been better if I would have used another grill that I could run much hotter at about 350-375 for better results. The little grill with that big of load was struggling to get to the higher great chicken cooking temperatures.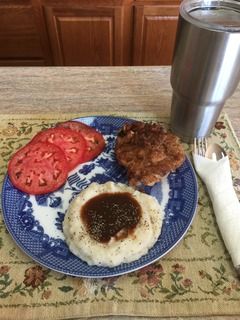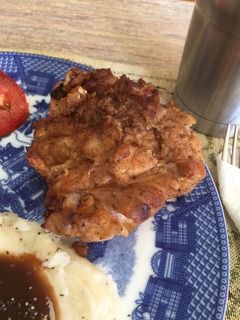 Jan made up some mashed pots and sliced some tomatoes for my treat. This was some very good breaded and non deep fried chicken and with a few tweaks will be a winner!! More spices including ground cayenne pepper, white pepper, addition of onion powder, and a little more garlic of some type and then cooked on the Weber Performer or a pellet cooker at about 375 degrees should put this out of sight!