This cook was done on the Cobb Grill and was a small fryer chicken that weighed only four pounds so it was a small chicken. I didn't do a thing to it other than apply a rub and just put it on the grill and get it spinning.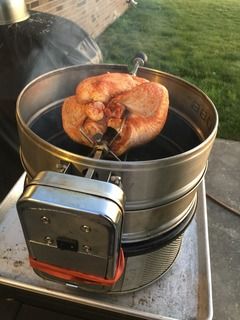 I used heavy smoke for the first 15 minutes with some JD Oak Chips.
At about the 45 minutes mark into the cook, I started mopping the chicken every 10 minutes with the Roadside Chicken Sauce which is a great marinade, sauce, dip, mop, glaze etc..and works great on any poultry.
Just off of the Cobb and cooling.
Chicken was about too small to cut up so I just halved it for our meal.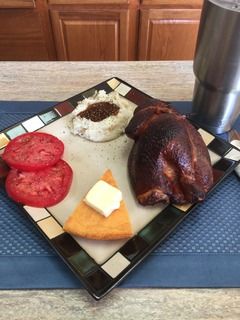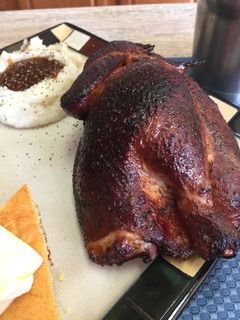 Add some pots and gravy, some sliced tomatoes, a wedge of cornbread and had a great meal.