I did some charcoal grilling over the weekend and thought I would share it with the group.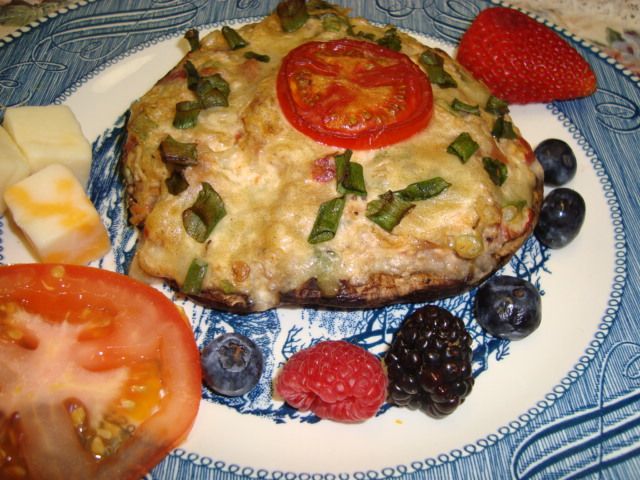 This is a large stuffed portobello mushroom.
This is 17 oz rib-eye along with a "crashed" potato, some cheese chunks, fresh fruit, and cottage cheese.

All this cook was done on my Hasty Bake cooker with some Wicked Good charcoal and some hickory chunks for smoke.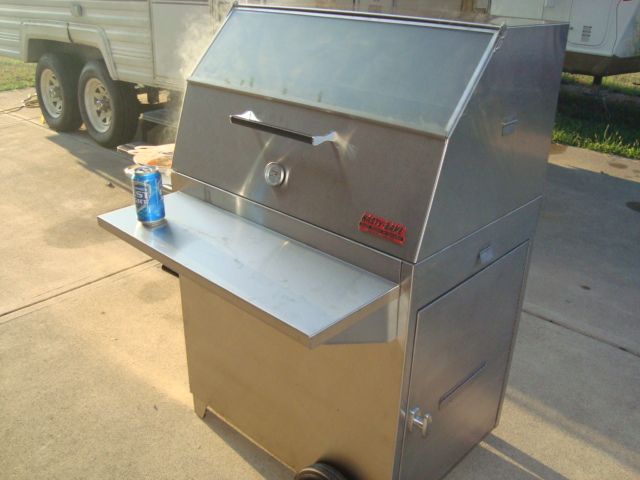 The Hasty Bake doing it's thing...great cooker.
I cleaned all the gills out from the underside of the mushrooms with a mellon baller. I then mixed up the stuffing which contains cream cheese, mild cheddar cheese, green onions, chopped up bacon pieces, smoked bell peppers, and some thinly sliced and diced Prosciutto.
I stuffed the mushrooms and topped with a slice of tomato.

I also sliced up another portobello and mixed it up with some caramelized onions and some sauce for my topping for the steaks and burgers.
Next step is my crashed potatoes.....I took some small red new potatoes and just washed them and threw them in a pot of boiling water and cooked them about 20 minutes until I could get a fork in them easily and then placed them on my greased cookie sheet with my portobellos. Took a potato masher and carefully pressed down on each potato until it split open and was slightly flattened on the sheet. I brushed on some olive oil, and added some green onions and cheddar cheese.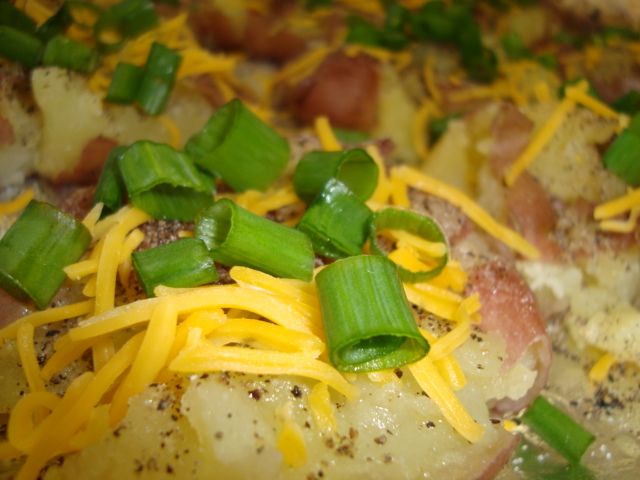 These potatoes really looked great!
Mommy made up about (13) 1/3 pound burgers and also sprinkled on some garlic salt and fresh cracked black pepper on my two nice rib-eyes.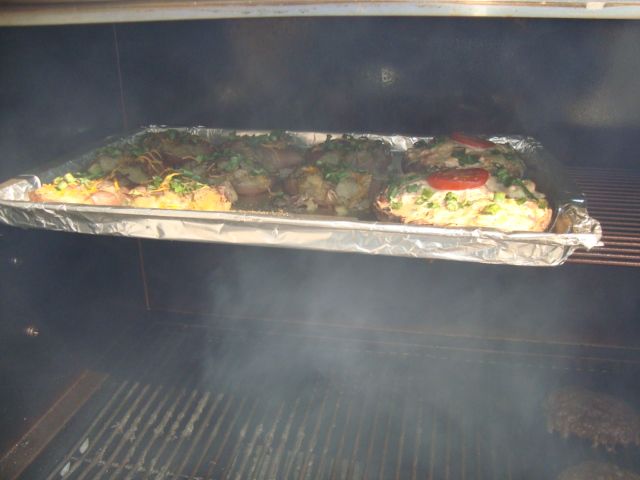 I had the cooker set up with both an indirect and a direct side and also added my warming shelf for the potatoes and mushrooms. I loaded the potatoes and mushrooms on the warming shelf in the cooker.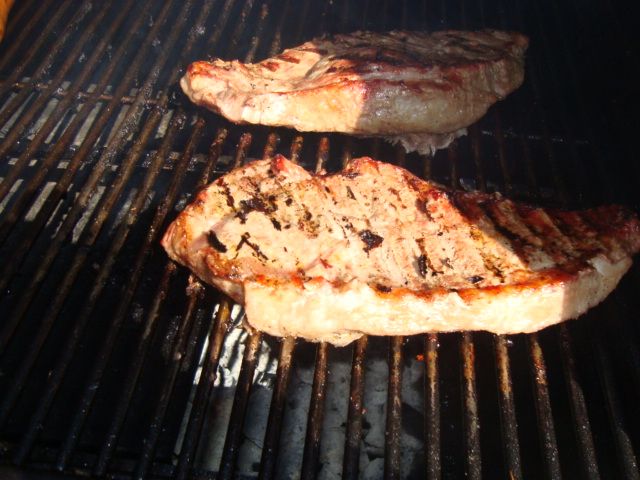 I then cooked the steaks for a few short minutes over the direct side right over the charcoal flame.
I did the burgers next on the direct side of the cooker.
Burgers looking good.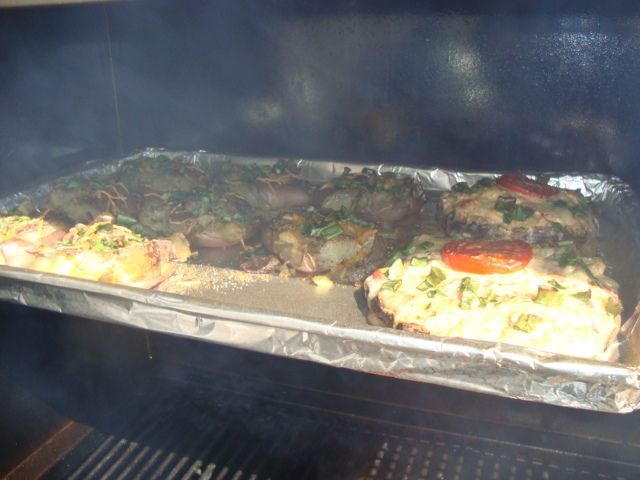 Pots and shrooms next off. Really anxious to try the potatoes as this is the first time I had fixed them.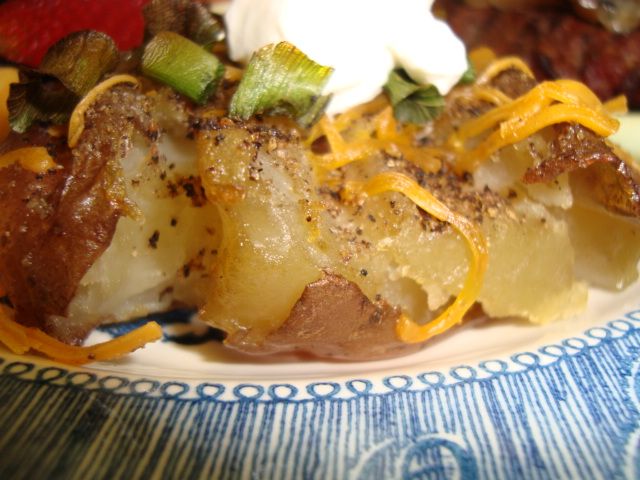 A little sour cream on top and WOW....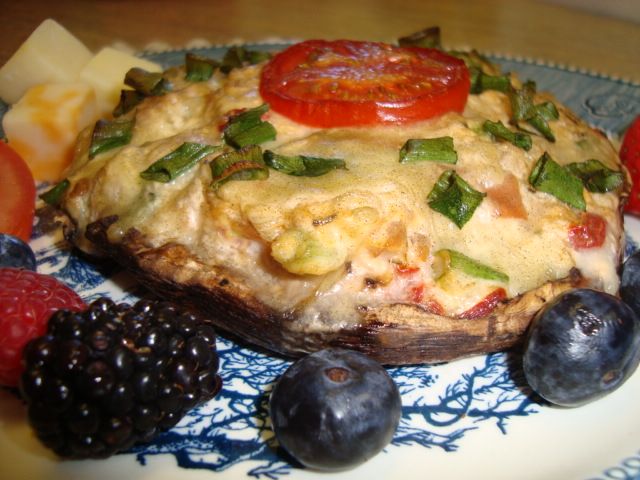 The stuffed portobello was wonderful and makes for a nice low carb meal.
This is my plate and I am a sucker for a good fatburger along with my mushroom and caramelized onion sauce on top and then one of those crushed potatoes and some fruit and cheese.

You gotta love a good charcoal grill....