This is a post that I put up on the Char-Broil Forum a few months ago. This company no longer lists this fine cooker / smoker on their website. Without this cooker, this company would have been history a long time ago in my opinion.
With such a dry condition, we like to grill up several meals at one time with our charcoal cookers as it is just so easy to get a spark somewhere we don't want it and start a fire. This is true with most other cookers as well so do be careful with any grill or smoker in these times.
This cook was done in my classic Char-Broil 940X (RIP and not even listed on the website anymore) which helped make this brand famous. This is one great cooker with many cooking options and I sure hope they bring it back someday.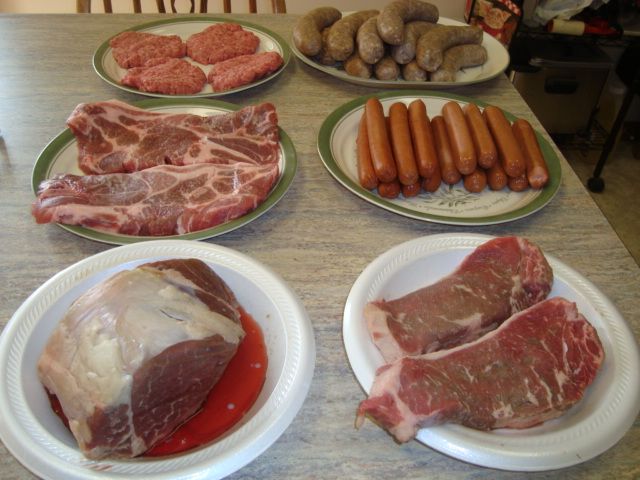 Front left is a ribeye roast cut from a full ribeye loin, I like to purchase the whole ribeye and then cut my meat the way we want it to include some State Fair thick slices, some 1-1/2" thick steaks, and some roasts which I cut off the small ends like you see in the picture. Front right is a couple of one inch strip steaks, middle left is a couple of pork steaks or butt steaks as some folks like to call them. The strip steaks were prepped with a light sprinkle of garlic salt and some fresh ground black pepper. The pork steaks were rubbed with my no-carb rub.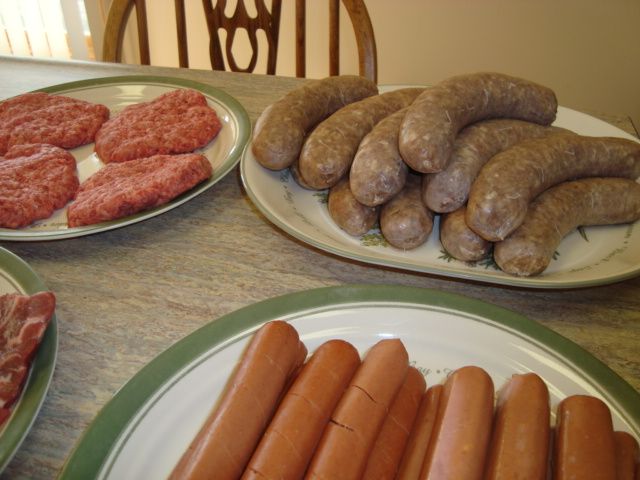 In the front of the picture is a package of those good Hebrew National Hot Dogs that I have swirl cut to make them kinda lay more open when done so as to get more goodies in between each cut on the bun. I read about this on a forum somewhere and I hope not here as this is where two fools met! I have done some stupid things to hot dogs but this is about as dumb as one can get. I now have about 8 half way thru slices all the way around on each dog and I am sure all the wonderful juices and flavor will just cook and run out of the dog. You know, a good comparison would be to take a nice 2" thick ribeye steak and cut it into 3/4" square chunks and then grill it that way expecting a nice juicy and flavorful end result! Swirl Cut my a$$ Left rear is four 1/3 pound 70% fat burgers. Right rear is some of my home made brats. I also had a package of those good Eckrich Grillers not shown in the picture.

I set the 940 up to both cook direct and indirect and then poured in a hot large Weber chimney full of that wonderful Ozark Oak lump charcoal in the direct and right side of the cooker. Spread it out and added some small chunks of apple wood for smoke.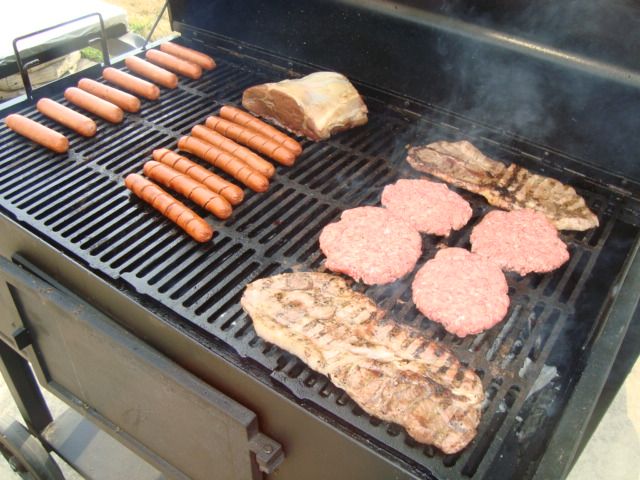 I loaded the indirect side with the Grillers, the Swirl Cut dogs, and the ribeye roast and then loaded the steaks on the direct side for the sear. The steaks finished in just 3 minutes on the first side and two minutes on the 2nd side. I didn't get a picture of those on the grill. Next on the direct side were the burgers and the pork steaks and those finished quite quickly as well.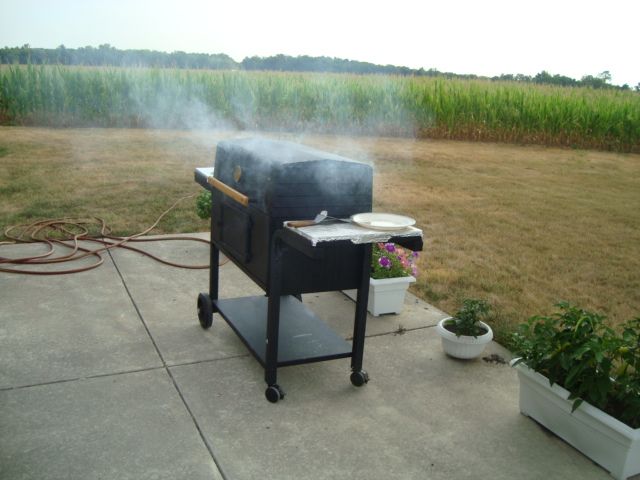 My Char-Broil 950X doing it's thing...notice the fire hose ready to prevent any spark from igniting any of the very dry grass in the yard.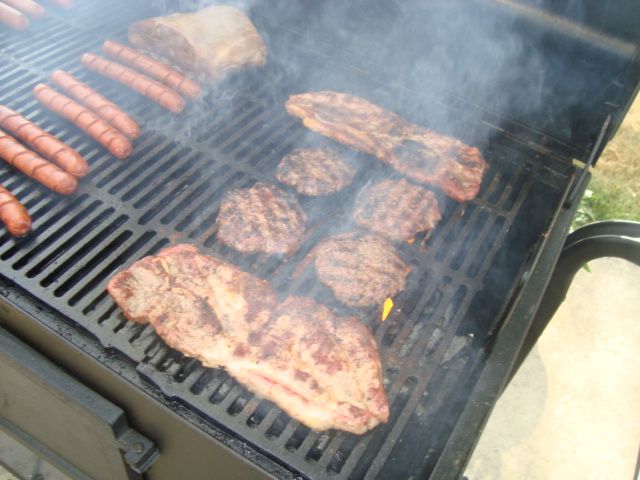 The pork steaks and the burgers just about done on the direct side of the cooker.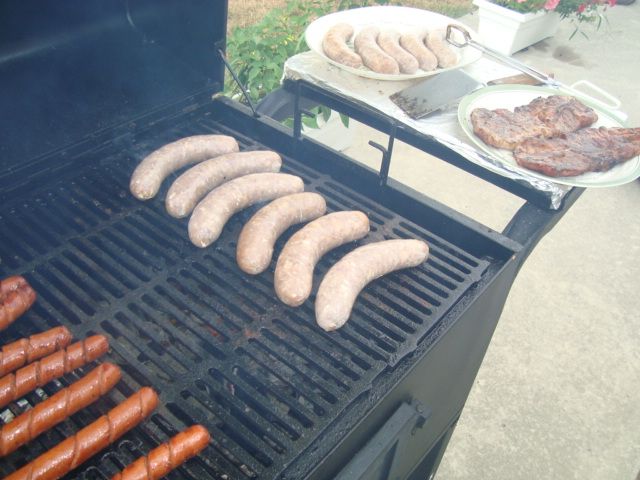 When the pork steaks and the burgers came off, I started my home made brats. I have to be very careful with these as I don't want the skin to crack or get a hole of any kind in the casing and let all the wonderful juice run out.....just nothing better than biting into a properly cooked brat and have all that juice and flavor squirt into your mouth.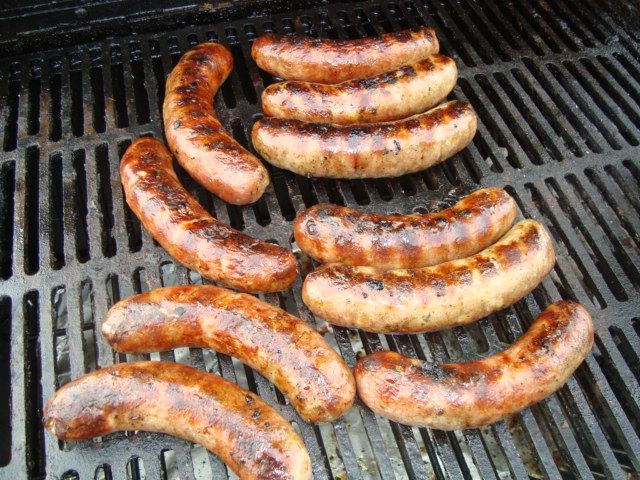 I kept working the brats from the direct side to the indirect side and back until I got them done and was done without any punctures.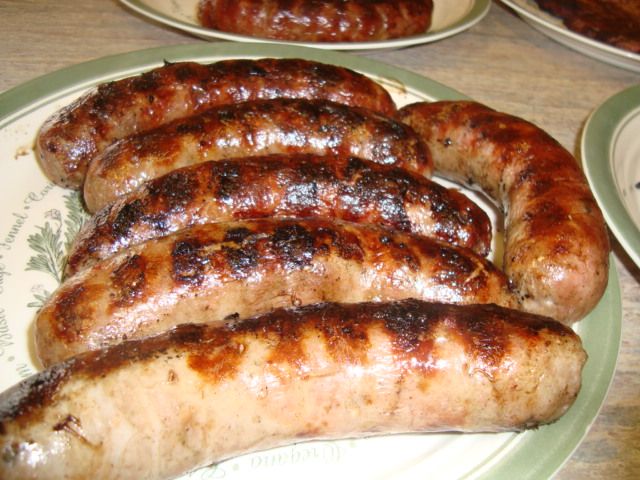 Some of the brats just off the cooker.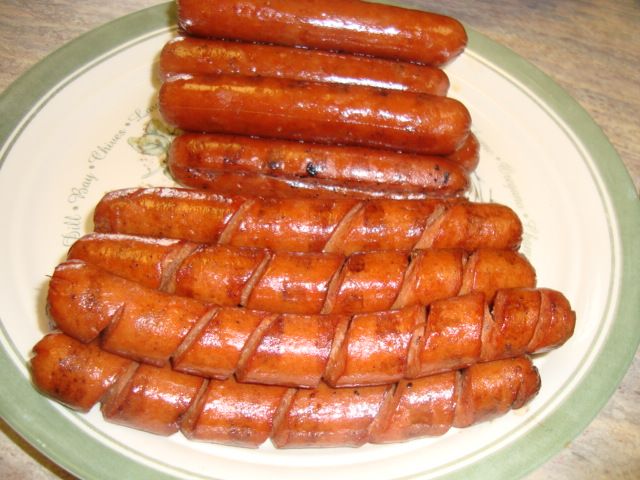 Them ruined swirl dogs in front--had to way overcook them to get them to open up at all.
On the back of the plate are the Eckrich Grillers.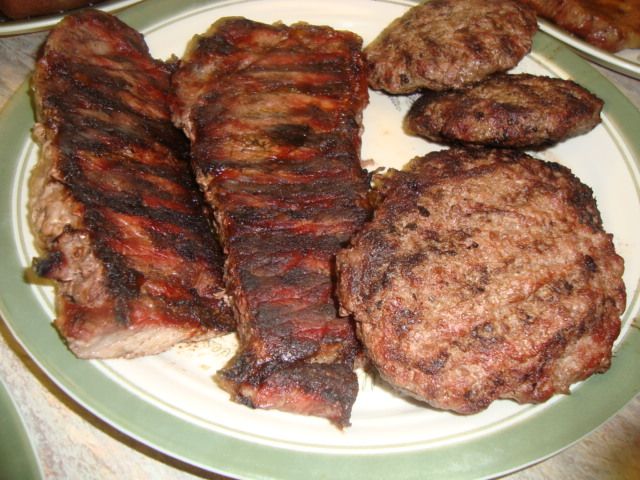 The strip steaks cooked to a medium rare and the fat burgers just off the grill.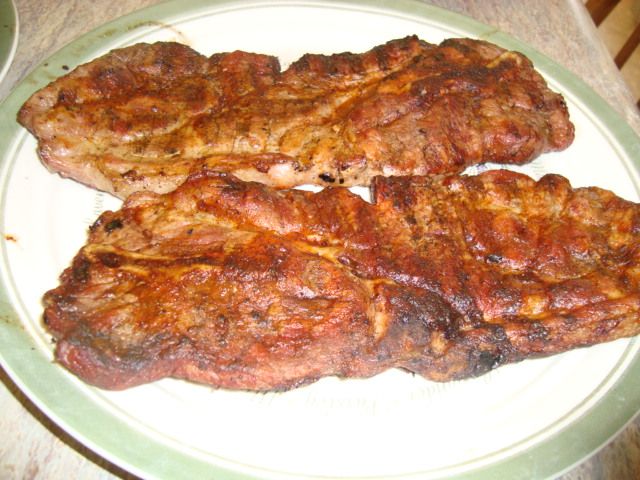 The pork steaks.

The ribeye roast will go into another article that will be posted later.

I sure enjoy doing cooks like this on my charcoal cookers and the CB 940X does a great job with any charcoal cook. It's mo-better cooked over wood or charcoal.