I did this cook back in August on my CB (Yugo) X over charcoal with a little hickory for smoke. I set the cooking grid up with about 1/3 of it direct and the other 2/3 rds indirect. I had several meats to cook and needed both direct and indirect for the cook.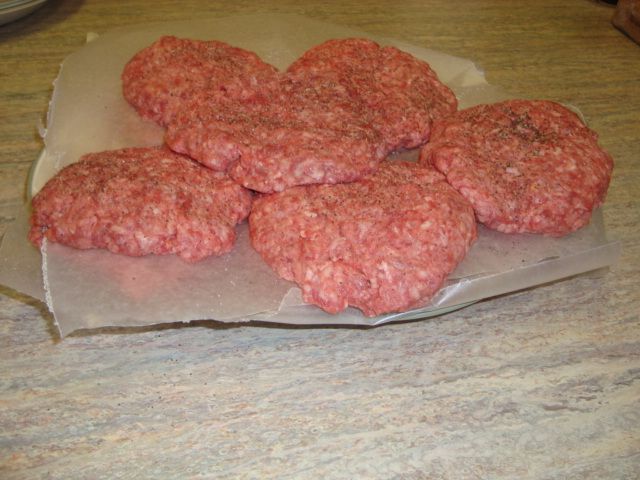 I started with 5 pounds of 28% flavor burger and Jan made up 16 burgers from the 5 pounds. Added salt and pepper. Bout 1/3 pound each makes a nice small burger.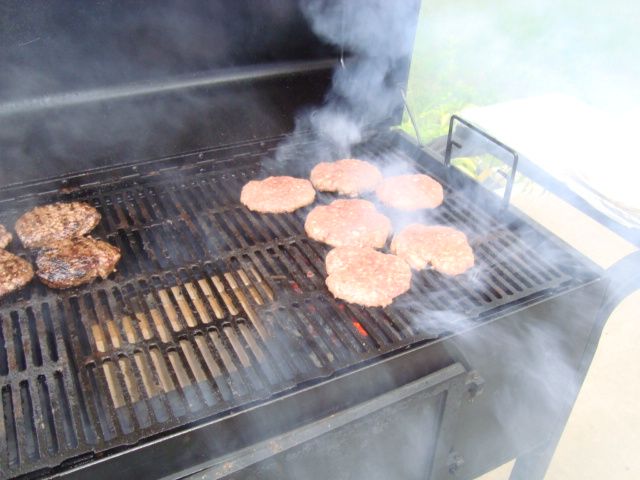 Since I needed a very hot fire at the start, I added a small amount of lump to the direct side of the cooker and then filled up a large Weber charcoal chimney with lump and after it was well lit, poured it into the cooker and added some smoke wood.

I like to put a good sear on my burgers and then finish them on the indirect side to about 165 degrees internal.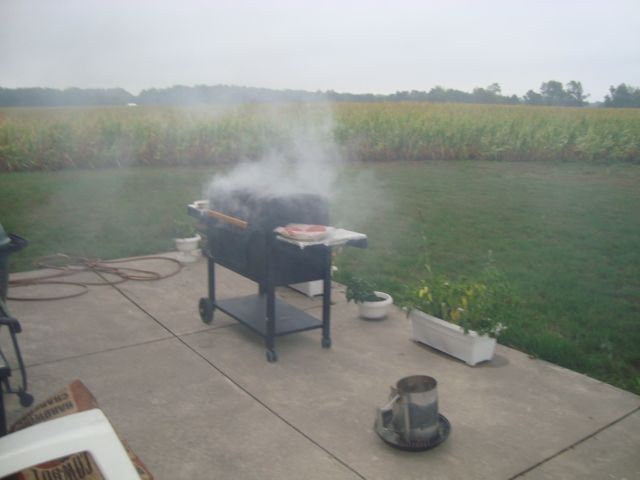 There is my Yugo, De Soto, or maybe Edsel doing it's thing. Real shame that this once great cooker in no longer listed on Char-Broils website.
Here are some of the other meat cooked on this round. Top left is a package and a half of the Eckrich Grillers, and right of it some bun size hotdogs. Top right plate has 4 strip steaks which will be used for my steak and mushroom hoogies. Bottom two plates are six big pork steaks. Not shown are about 22 of my very hot chicken wings.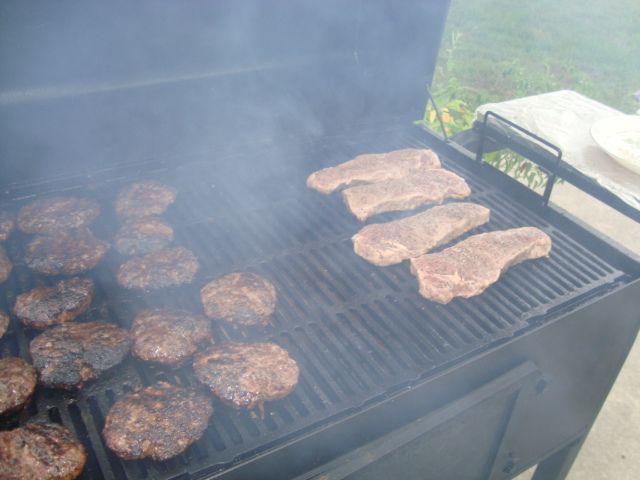 My steaks are prepped with some Smokey Mountain steak rub. These 4 one inch steaks are seared about 2 minutes a side and they are done to medium rare and I took them off the cooker.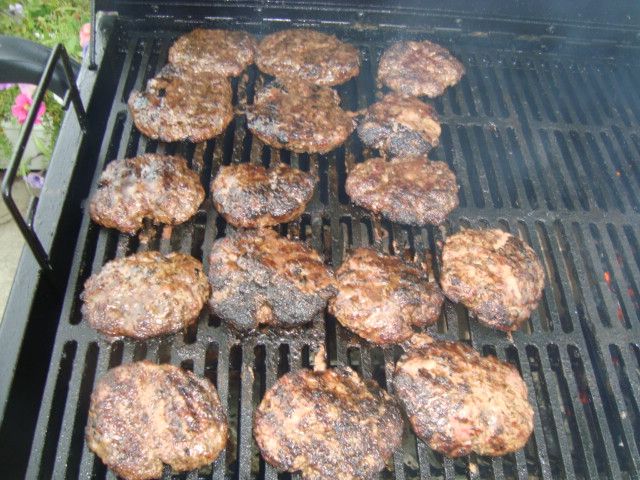 Thats my burgers getting happy on the indirect side of the cooker.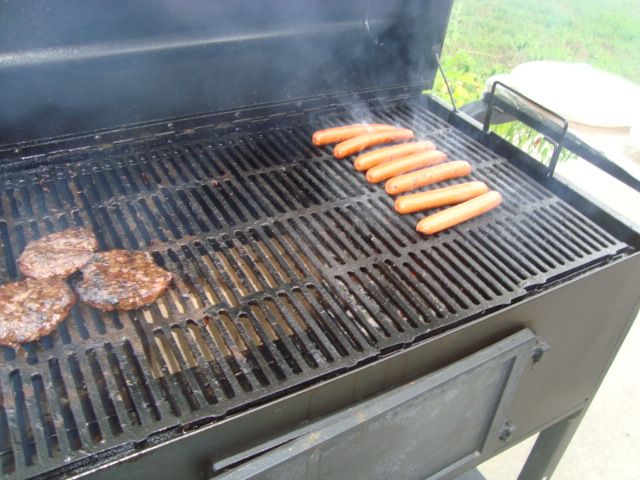 Next were the dogs and I like to put a little char on them. I followed the dogs with the Grillers. I love these things and use them for snacks.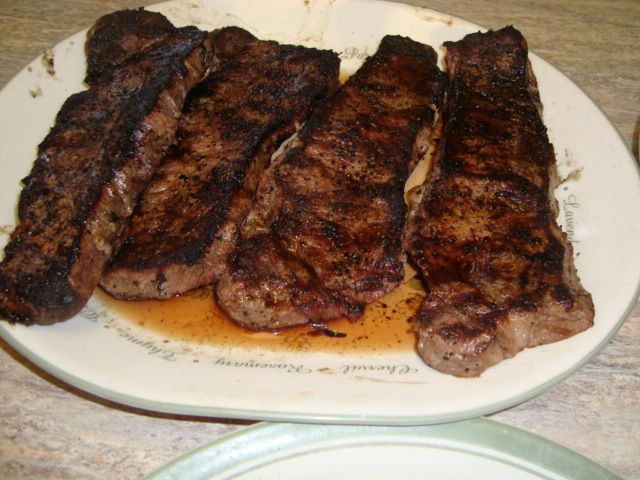 Steaks just off the grill.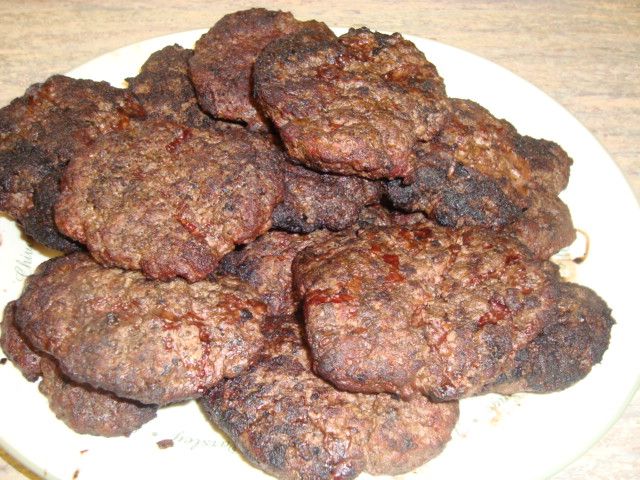 Burgers looking good.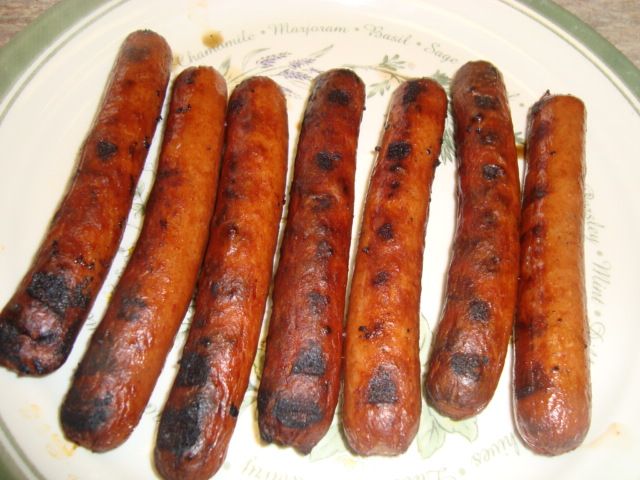 Jan's dogs.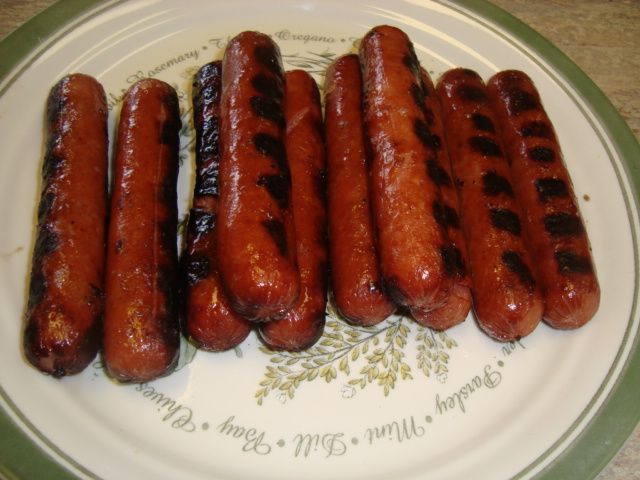 The Eckrich Grillers.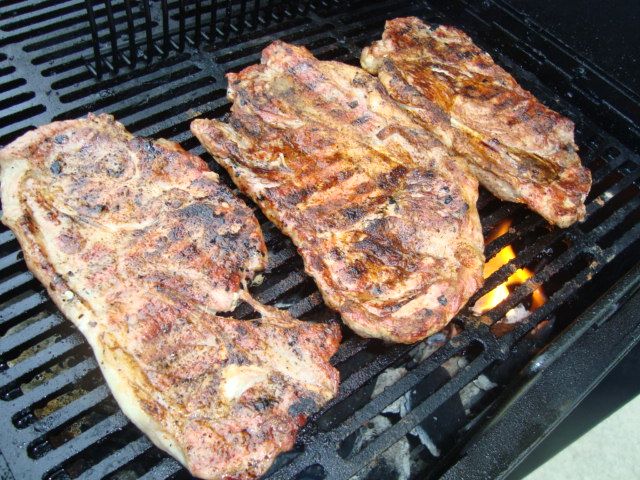 The pork steaks were prepped with my no-carb rub. I like them seared just like a beef steak and then slow cooked indirect for a couple hours.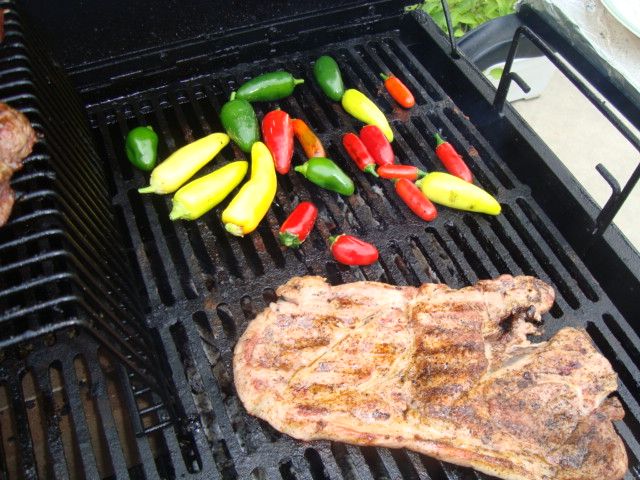 While my last pork steak was searing, I picked a few hot peppers out of my patio boxes and added them to the grill.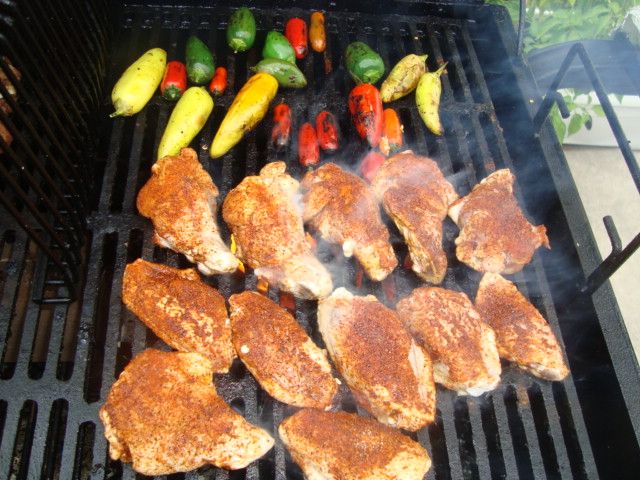 My hot chicken wings were prepped with my no-carb rub and then I added mucho ground cayenne pepper. Just like about everything I cook over charcoal, I like to somewhat char it for that additional flavor. Nothing beats a hot charcoal fire licking at the bottom of my meats and veggies on the cooker for the most great flavor.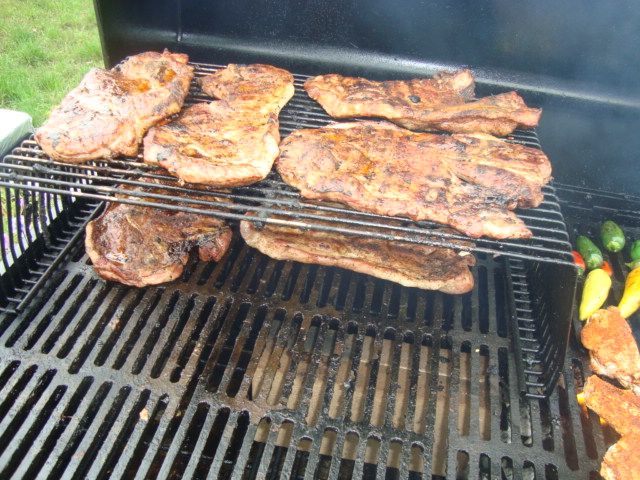 I added a second raised grid in the cooker to make room for all the indirect items that I was cooking.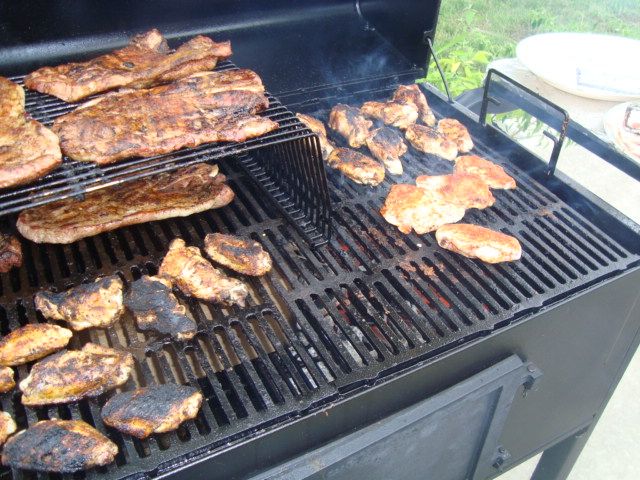 Working the cooker...as you can see, I am finishing up putting a little char on my wings and then placing them on the indirect side of the cooker. Pork steaks are still soaking up some smoke and heat.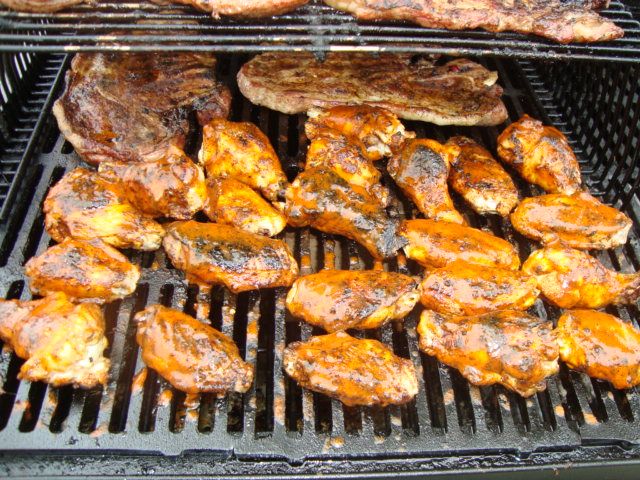 Chicken wings were sauced next with some Frank's hot sauce mixed with some butter, some Splenda, and some ground cayenne pepper.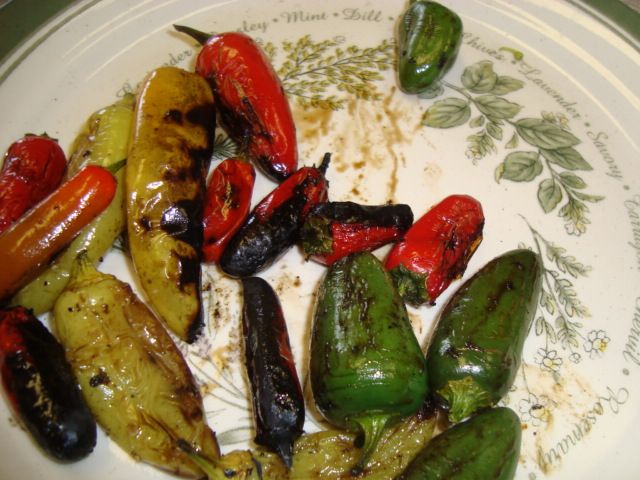 The cooks treat and man they were good.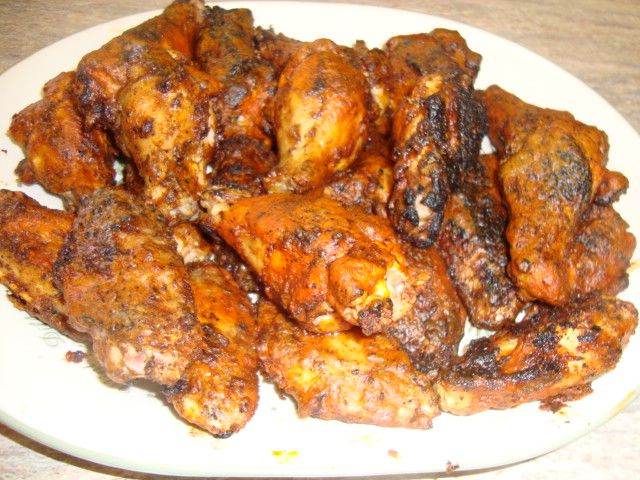 The hot wings.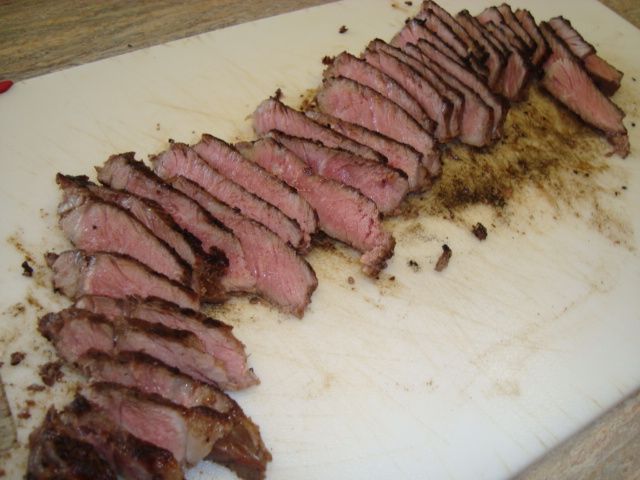 I cut up all four steaks for my special treat which I will fix at a later date.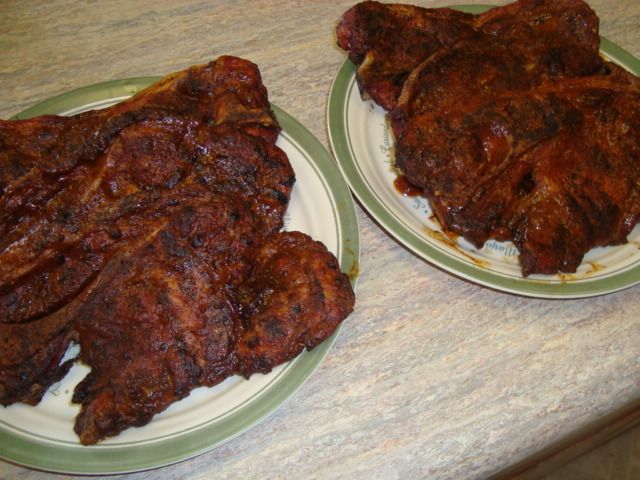 The pork steaks were sauced with my low carb sauce and then taken off the cooker. Really hard to beat a good pork steak dinner.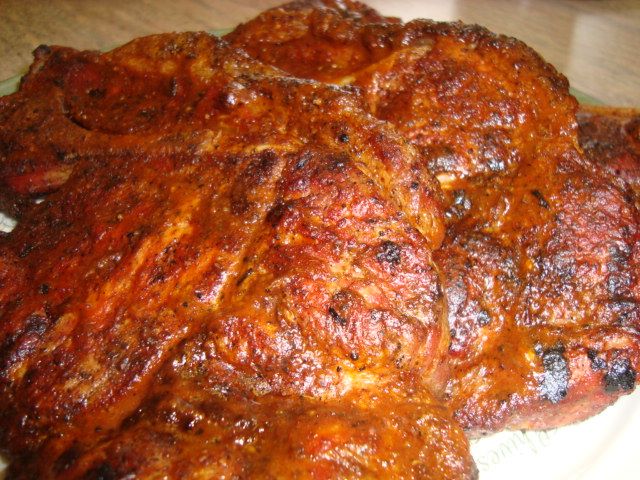 Close up of the pork steak.