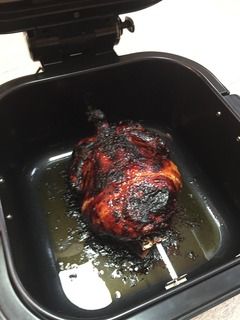 Chicken done on the air fryer. Gonna have to fight the wife over the charred pieces.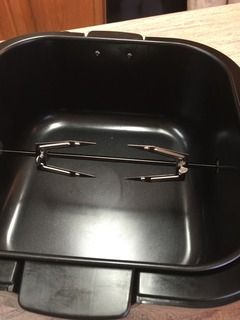 I put the spit rod and the forks together and mounted it in the air fryer and then did some measuring and figured out that I didn't have much room for a very large chicken. I purchased a small 3.58 pound Amish fryer chicken as I am sure I couldn't cook anything larger. It worked perfectly and was the largest chicken that can be cooked on this air fryer.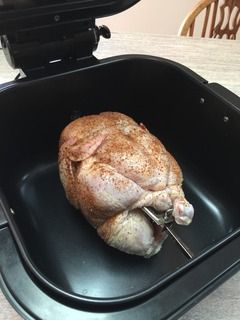 I rounded the chicken up first and then tied it with string so it would stay round and not hit the top or bottom of the cooker. Coated with some olive oil and then rubbed with a good chicken rub and the mounted on the spit rod. I set the temperature for 380 degrees and the timer for one hour and turned it loose.
At 30 minutes into the cook, I brushed on a mixture of Blues Hog Tenn Red and some Smokey Mountain bbq sauce. Brushed more sauce on at the 45 minute mark and it shut off at the one hour mark into the cook.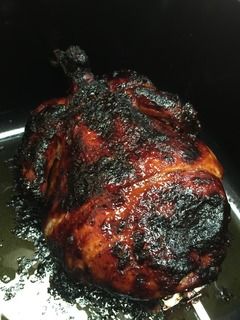 Now that's a pretty nice looking chicken if I do say so myself!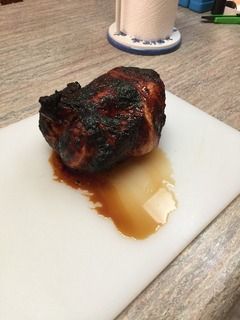 I let this juicy chicken cool off for a few minutes and cut it up for the table.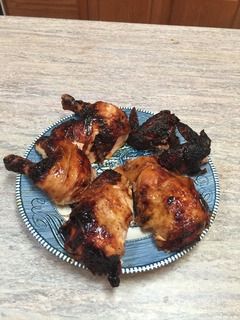 Came out looking pretty good.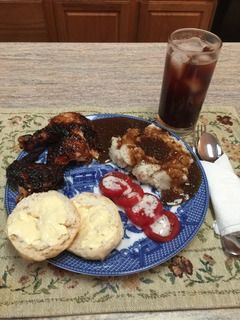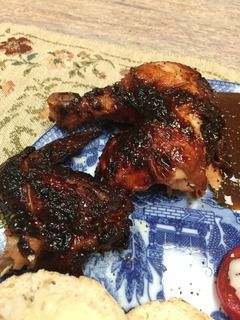 Served the chicken up with some mashed potatoes and gravy, a big biscuit, and a sliced tomato salad.
You know, for a hundred bucks, I think this air fryer is going to be a keeper.