These meatballs make a good appetizer or can also be used for a whole meal and with a simple change, can be used with your pasta.
Ingredients for Meatballs:
2 lb hamburger
1 lb sausage
1 (5oz)can Carnation Milk
2 cups oatmeal
2 tsp chili powder
1/2 tsp garlic powder
1/2 tsp fresh ground black pepper
2 tsp salt
2 eggs
1/2 cup finely chopped onions
Mix all the ingredients together in a large bowl and then shape into balls about 1 to 1-1/4" in diameter and place the meatballs on a couple of large retangular cooking pans.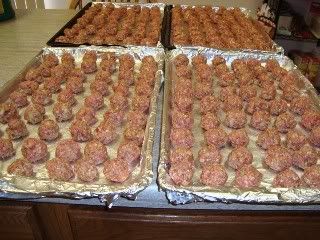 This is a double order of my meatballs about ready to go on the cooker. The double order made up 216 (1-1/4") balls.
I fired up the pellet cooker and set the controller to about 350 degrees and placed two of my pans of meatballs on the cooker. I browned the meatballs with pecan logs for about 20 minutes (until just done through) and removed them from the cooker.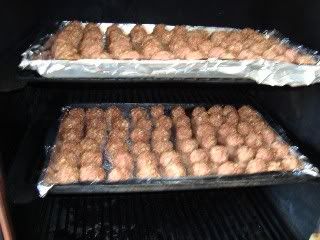 I then did the second two pans the same way.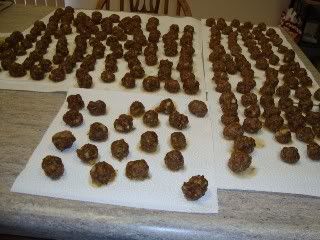 I took the meatballs out of the pans and placed them to drain and cool on some paper towels on the counter top while I prepared my sauce.
Sauce:
4 cups ketchup
4 cups brown sugar
2 tsp liquid smoke
1 tsp garlic powder
1 cup finely chopped onions
Mix this together in a crock pot and then place the meatballs in the sauce. Keep the pot on low until ready to serve. Watch them closely as it is very easy to overcook this great treat in the crock pot. You just want them heated up only!!!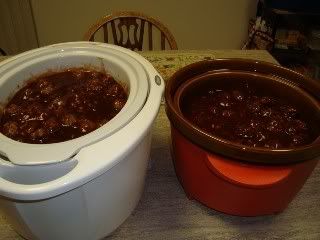 To use these meatballs for your spaghetti or pasta cooks, leave out the chili powder and substitute 2 tsp of Italian seasoning. Then use your favorite pasta sauce for the meal.