In May of 2008, a gentleman showed up to answer a question or two on the Smoke Ring Forum and he brought some information and pictures of his home made ceramic cooker. He hasn't been back since so I am not sure how he is doing with his cookers.
The gentleman was from St. Louis and called himself "beeveewee".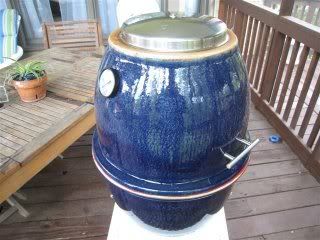 The cooker is about 16" in diameter which is the size of the medium Big Green Egg. The cost was around $120 dollars which is about 1/6th of the cost of a new Medium Big Green Egg.
Here is the information with pictures that he posted on the forum.
I saw a ceramic "Big Green Egg" cooker. I saw big ceramic pots at the
store. Did a little research on ceramic Komado cookers and "cooked" up
one of my own last weekend. I smoked a pork shoulder for 12 hours on one load of
hard lump charcoal so apparently it works!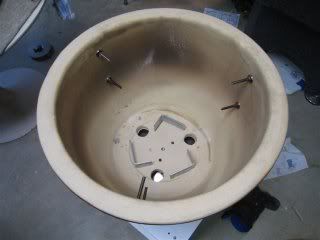 Found three stl angles and placed them in bottom of pot. Drilled three holes for lower "plate setter" grate, three holes for cooking grate and inserted 3/8x2.5" stainless steel machine screws. Stainless button washer and bolt on inside.
Placed terra-cotta plate on the steel angles. I drilled three holes in bottom of plate (not shown here). The grate that works is for the Weber Smokey Joe. I used two. One for the cooking grate and one directly over the fire to hold my ceramic pizza atone (which is broken into three pieces). You can then place a drip pan on the pizza stone.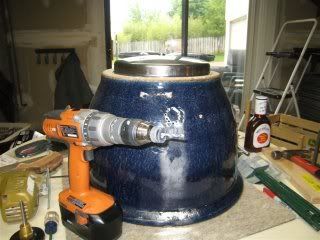 Mounted stainless steel pot lid on a stainless steel machine screw which threads into a bolt mounted in the center of the pot. Drilled holes in a circle to make a larger hole big enough for my thermometer. Mounted the thermometer using 100% silicone. (silicone is very heat resistant).
Found a stainless steel vegetable grilling basket at Home Depot. I drilled out the rivets that attached the handle and placed it on the terra cotta plate to hold the fuel. Bought cheapo polyester felt at Wally World for .20 a sheet. I cut it to fit and glued it with 100% silicone. It seals perfectly with no smoke leakage whatsoever and I'm on my fifth use with no sign of the felt giving out. I figure if/when it does, I'll spring for the $15 replacement gasket for the Green Egg that's designed for super-high temps.
I used stainless steel kitchen cabinet handles that I found at Ace Hardware. Could have used something cheaper but went for good-looking! I found the table at a garage sale for $5.00 and cut a hole. This is critical b/c you have to have access to the bottom lid to adjust the bottom vent.
I will list some of his other quotes on this unique little ceramic smoker.
"I have absolute air control, precise temperature control, slow, slow burn, very efficient fuel consumption. I couldn't be more pleased. From all I've read on the big green egg, my cooker behaves as good or better".
"1.Mine doesn't have a spring loaded hinge (obviously), you have to lift the top and set it aside (and have a place ready for it). I don't grill on mine and don't open it more than once to set it up, and again to take my prize when it's done.
2. mine doesn't get hot spots as some have described getting in their Eggs from having a side/eccentrically located vent. My vent is fully centered and symetrical at the base so I think I must be getting more even air flow.
3. You might be able to tell from the pictures that my vent control is achieved by mounting stainless steel pot lids (25cents at garage sale) on a stainless steel bolt which screws into a nut fastened to the pot. Rotate the lid clockwise and it closes gradually, etc. Same for top and bottom.
4. I've never used a Green Egg but have done a tremendous amount of research. Mine is inspiring the same awe in me that the Eggs seem to command from their owners. This thing holds temp with the vents practically closed.
5. I was using a ceramic pizza stone as my "plate setter". It broke today. I'm going to get another 15" steel grill and set the ceramic pieces on that. It should do the same job of diffusing the heat.
6. I used red felt that I bought at wal-mart for 20 cents. Glued it down with silicone. I've run it to 400 degrees w/o problem but have no need to go that high since I don't have any intention to grill on this smoker.
7. I did test the pots for lead. negative. I can smoke this pot without brain damage!
8. This was a pretty easy project. And cheap! I was expecting it to look a little frankenstein but took a little extra special care to pick just the right hardware that would do the beautiful cobalt blue pots justice."
Kudos go out to this gentleman for coming up with such a nice inexpensive ceramic cooker!