This slick little cooker was designed and fabricated by my friend Doug Feil (USA Doug) from Decatur, Alabama. It was built out of parts from a Primo ceramic cooker, parts from a Big Green Egg ceramic cooker, and parts from a Traeger pellet cooker along with a sheet of aluminum diamond plate metal and some other misc. parts. I think it is kinda a "work in process" as Doug works on it when he has the time.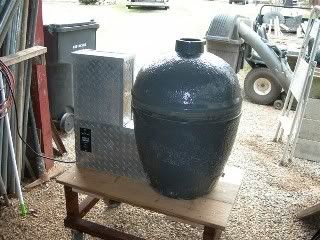 Doug used the outer shell (both top and bottom) of the round Primo ceramic cooker.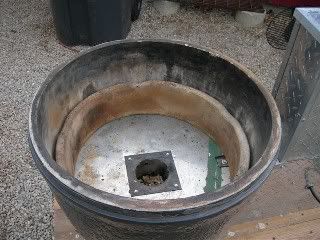 He also used the Primo pizza stone and grate along with the vent top in his assembly of this cooker. He also used the ceramic ring out of a BGE cooker in this unit.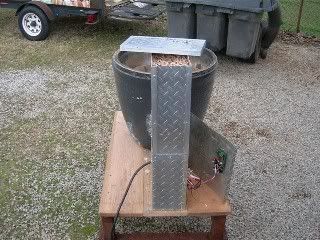 Doug fabricated his pellet hopper, control panel, and complete feed delivery system housing out of the diamond plate aluminum sheet. He then installed the Traeger pellet feed system into the Primo cooker shell and attached his feeder and hopper assembly to the Primo shell.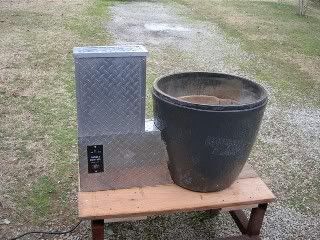 The cooker is coming along nicely at this point and looks good.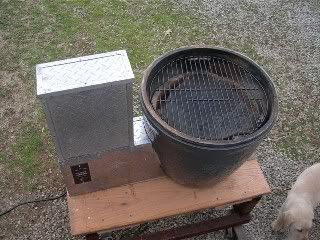 He used the BGE plate setter with the legs up in the cooker and then the cooking grid on top of that.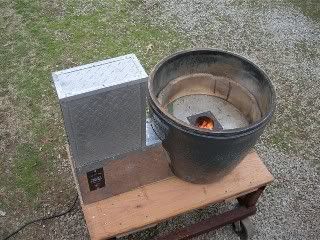 This picture shows the cooker lit up with fire in the firebox.
I think this is a great modification and fabrication job to the Primo ceramic cooker and "kudo's" go out to Doug for coming up with this very unique cooker.