Meatloaf is wonderful cooked on an outside cooker/smoker with just that light hint of smoke flavor. It is very easy to oversmoke this treat so I usually don't use much smoke wood for my cooking. It is also a great treat for the low-carbers if you use the Heinz One Carb reduced sugar ketchup over the top of the meat and leave out any of the fillers that would have carbs.
Meatloaf can be made with many different ingredients and I prefer to use some of the following for my loaves. This would make up about a 2-1/2 pound loaf.
1 lb Italian or a tube of hot sausage.
1 lb 70% lean hamburger
Sharp cheddar cheese
Egg
Onions
Bell peppers
Roasted red peppers
Italian spice
Salt
Pepper
Mushrooms
Black olives
Filler--either oats, crackers, or bread crumbs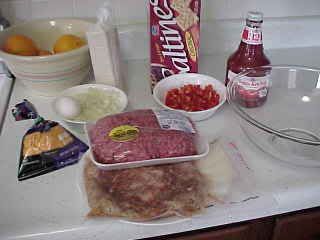 The above picture show a 1-1/2 pound package of my homemade super spicy Italian sausage and about 1-1/2 pound of fatburger for the meat in this loaf. I like to keep the meat about 50/50 hamburger and sausage for my regular loaves.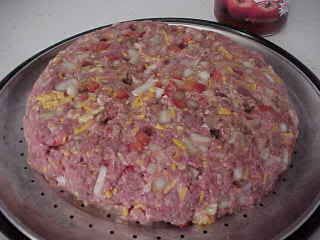 I like to cook my meatloaves on perforated pizza pans as I don't like the meat cooked in its own grease. The grease will drip thru the holes in the pan and this makes for a better result. I use the handle end of a wooden spoon to make some indentations in the top of the loaf for the ketchup and then pour some over the top of the meat just before it goes on the fire.
This is the meatloaf about done in the ceramic cooker. I usually use a temp of about 350 degrees for this treat and take it off the cooker when the meat reaches about 165 degrees internal. I usually don't use any smoke wood as the lump charcoal will give the meat enough smoke flavor.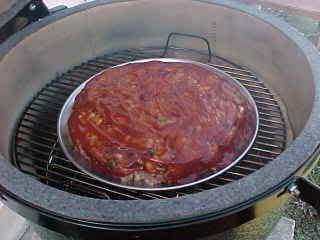 Another loaf going on the cooker.
Meatloaf done.
More meatloaf going on the ceramic cooker.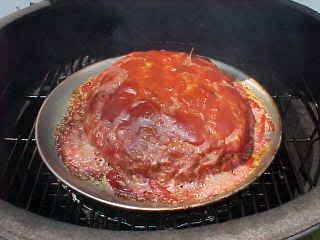 About done on the cooker.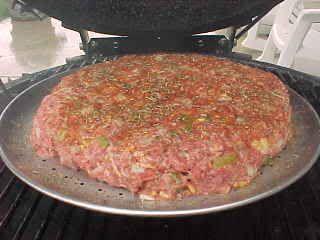 This is my Cajun meatloaf and it has some Cajun spices and some crawfish tails in this loaf along with my regular ingredients.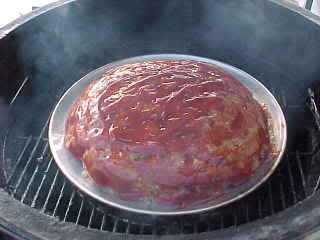 This is a mixed cook with the meatloaf on the lower grid in the ceramic cooker.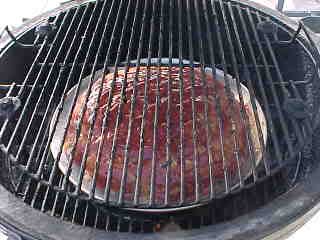 I then added my upper grid.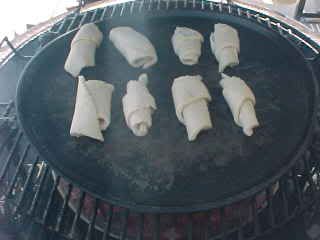 Placed a pan of rolls above the meatlaof.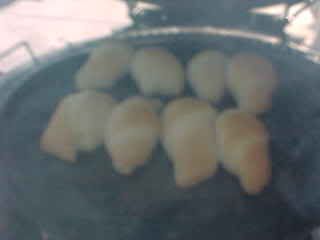 Rolls done and ready to come off the cooker.
This is another mixed cook that I am getting ready in my contraption for the ceramic cooker. This cook is a meatloaf, some slab potatoes, and a sausage fattie.
It is now ready to be carried out and placed on my ceramic cooker when it's on temp.
Meatloaf is a great treat and very easy to do on about any type of outside cooker.