I started doing this modification to this great little cooker in 1999-2000 when I first got started in contest cooking with the WSM's and feel it is the best way to install a thermometer in the WSM if your interest is in an ACCURATE reading of the top grid. This modification has some other advantages especially for contest cooking as well and I will get to them later.
I use an in-expensive (bout $10 bucks) Weber Replacement Gas Grill Thermometer #9815 for this modification. It can be found at about any store that sells the Weber products.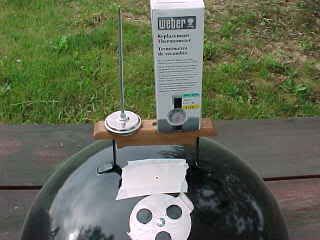 To mount the thermometer, I tape a place right in the middle between the exhaust vent and the handle on the cooker to prevent the drill from wondering or chipping the porcelain and then drill a small hole just one drill size larger than the tip of the probe on the Weber replacement thermometer. I use the larger drill size so the hole can also accommodate the Polder type of probes like the one found on my Maverick Remote Thermometer which I use for overnight cooking at contests to measure the cooking temp inside the cooker from the comfort of my bed in my EZ-UP!! This mod along with a couple of my other mods will allow you to easily cook overnight on these great cookers.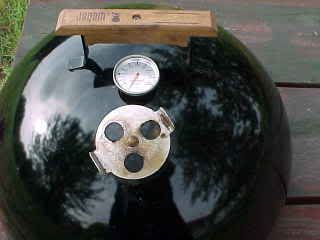 This is one nice and clean installation and the biggest advantage is it WORKS without having to add or subtract numbers to get an accurate reading of your top grid in the cooker. It is accurate within a degree or two on the temp at the top grid and then if you are using water, you would know that the lower grid is running 15 degrees lower than the top grid in the cooker. "Easy-Peasy as Mr Salmon would say".
Another advantage from this modification, is that when you go out to check or service the cooker, just get the cooker temp reading, and then pull the thermometer out of the hole in the lid, and then insert the thermometer probe into your meat on the cooker to check the internal temp of your meat. Put the cooker lid back on the cooker and slide the thermometer back into the hole and you are ready to go until the next check.
The last advantage is for your overnight cooking if you own one of those remote thermometers. You can insert the probe into the hole you have drilled for your Weber Replacement Thermometer and not have to worry about putting a kink in the probe wire by shutting the lid on the wire.
The one dis-advantage that I know of is with cooking something like a large turkey on the top grid, you may have to slightly pull the thermometer out of the hole and then kinda lean it over to the side so it will clear this large piece of meat. For all other cooks, it will work just fine.