I made up enough dough for two 14" pizzas in my trusty bread machine on the "dough only" cycle and prepped the first pizza on my home made pizza peel with the sausage, onions, bell pepper, black olives, roasted red pepper, sauce, and a blend of 3-4 cheeses.
I put a hearth stone on the top grid in the Backwoods Party and brought it up to about 400 degrees with the water pan dry in the cooker and after about 10 minutes on temp, I slid the first pizza on the stone.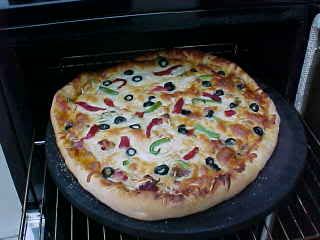 This is the second pizza coming off the cooker. Both pizzas came out great.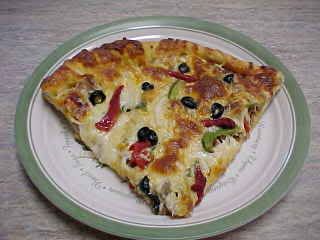 You just can't beat a pizza baked on a hearth in an outside cooker/smoker running a very clean burning fire with just that light hint of smoke flavor in the completed product.