Butterflied chicken or as it is sometimes called, spatchcock chicken, is a great treat on a cooker, grill, or smoker. It is easy to do and can be cooked at about any temp that you can come up with on your cooker. I prefer it cooked at a higher temp at around 350 degrees if it is the only thing I am running on my smoker/cooker at the time. Other than cooking a chicken whole in a Weber Kettle Rotisserie setup, I feel that this is the second best way to cook a whole chicken on an outside cooker.
To prep the butterflied chicken, place the whole chicken breast side down on your cutting board and using poultry shears or a very good knife, cut the backbone out of the chicken. Turn it over and spread it out and then press down on the chicken hard enough to break the breast bone and you now have it.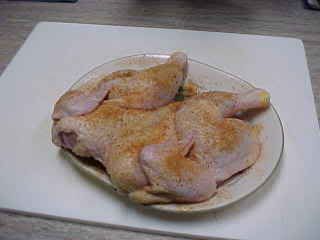 The chicken is now ready for your rub and I prefer something like Smokin' Guns Hot as I feel it is a great rub for all chicken.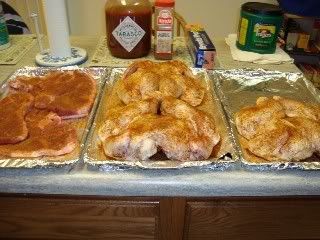 This picture shows three butterflied chickens ready for the cooker.
I do this treat on most of my cookers and will show some pictures of this cook in process on the different cookers.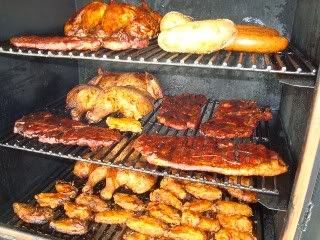 This is 3 butterflied chickens on my pellet cooker.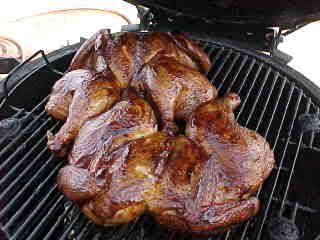 This picture shows 2 butterflied chickens on my contraption in my large BGE cooker.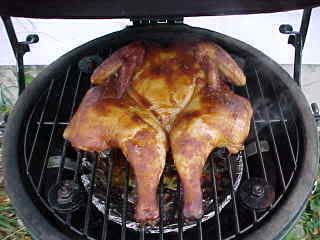 This is a butterflied chicken in my small Egg on my raised grid setup.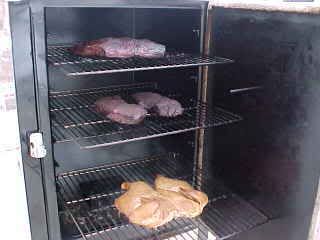 Chicken just going on my Backwoods Party smoker.
I have some pictures of this wonderful treat just coming out of the cookers.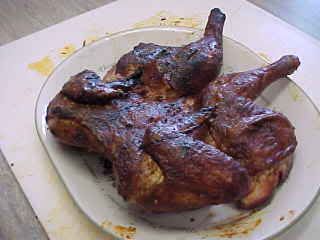 This chicken is out of one of my Backwoods cookers.
These two chickens are coming out of my Backwoods Party cooker.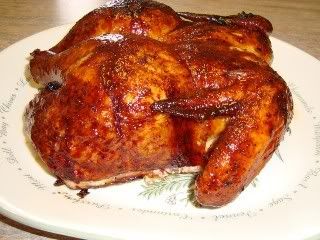 This butterflied chicken is just coming off of my "Old School" Fast Eddy Pellet Cooker.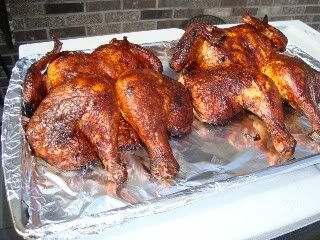 These are two more butterflied chickens off of my pellet cooker.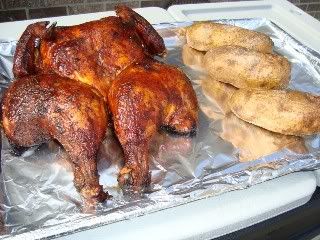 Again, one more chicken along with some baked potatoes just coming off the pellet cooker.
I use several different methods for finishing and glazing this chicken on the cookers and that is why the pictures show the different results in my cooks.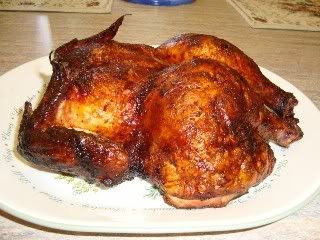 There are a lot of ways to present a butterflied whole chicken and I think this is one of the best! I like to cut it up at the table with a good knife and then serve it right off the plate.
Pulled Chicken is another great way to use this meat. Must be a hundreds of ways to prepare and serve this treat after pulling and we use several of them and all are very good. Wife loves chicken salad and if I don't watch her, all of the chicken I cook will end up in this dish. Once she gets it chopped up and made into her chicken salad, she will use it for several treats. I like it fixed as barbecued chicken and on a hoogie roll with some hot sauce. I also like it in some Mexican type of dishes and I also use it for some stir fried recipes. It's great about any way you prepare it.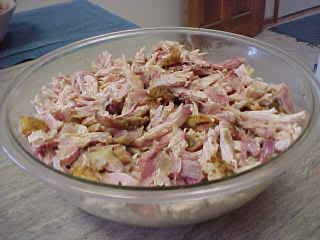 This is a bowl of pulled chicken from two butterflied whole chickens. We will usually make enough to put up a bag or two for the freezer when we cook this meat as we do use it often for several recipes.
Now, for the folks that want to kick this up to the next level, I'll give you my top secret recipe and method that will make this treat something that you might never forget.
To prep your pulled chicken for this, you first need to pull all the skin off of the butterflied chicken and put it aside. Then go ahead and pull the chicken into a bowl.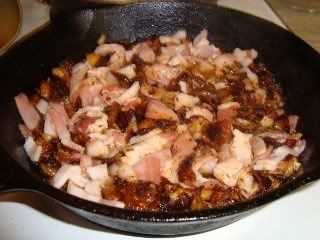 Put all the chicken skin on a cutting board and chop it up into small pieces and place it into a skillet that has a tablespoon or two of peanut oil in the bottom and then add about 3 cut up pieces of bacon per whole chicken. Now, for the folks that are the lovers of the pod, cut up about two jalapeno peppers per chicken and place them in the skillet and cook this until it is kinda crispy but not overdone.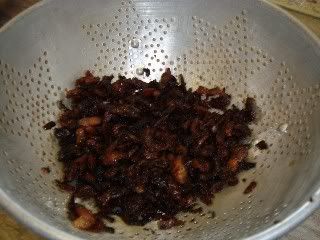 Strain the grease out of this mixture.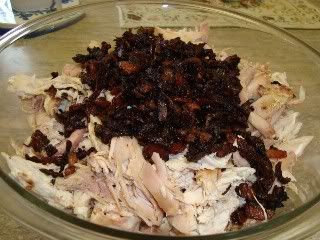 Pour it over your pulled chicken.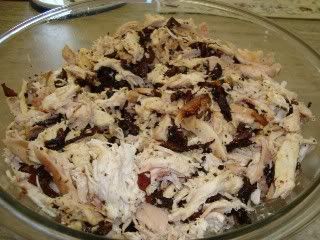 Mix it up and you really have something that is more than good.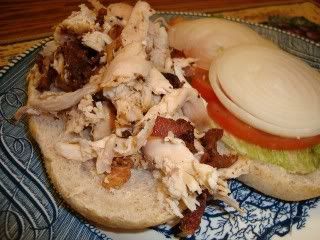 I like to take a hoogie roll and lay it out flat on the plate. Run a couple of beads of mayo on one side of the bun, then add some lettuce, some tomatoes, and some onions. I then place some of my pulled chicken on the other side and fold it up and eat this great sandwich.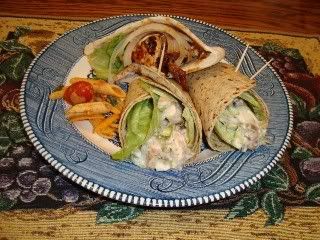 Wife likes to make some of the pulled chicken into chicken salad and then use a whole wheat tortilla to make her chicken salad rollups. She will also stuff a Pita Pocket with some pulled barbecued chicken as a second choice. Both are very good.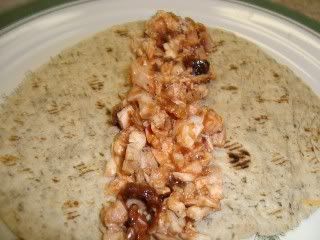 Another great way to use the pulled chicken is in what I call a Mexican rollup. I start by chopping up some of the pulled chicken and then mixing the meat in a bowl with some taco sauce. I then put some of it down on a whole wheat tortilla.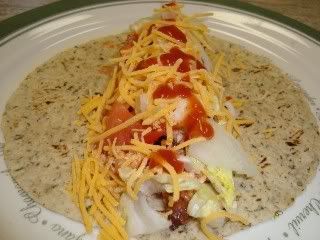 I then add some finely chopped lettuce, tomato, and onions and then some sharp shreaded cheddar cheese on it. I will then dribble on some more taco sauce on the top before I roll it up.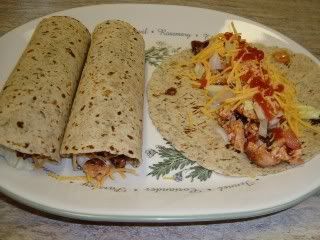 Put the rollup in the nuker just long enough to heat it up and melt the cheese.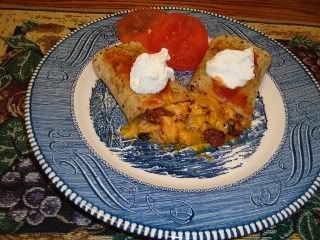 I will then cut it into two pieces, add some sour cream, and serve it like you see in the picture.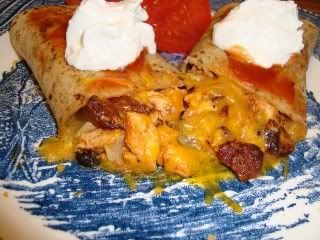 A great meal!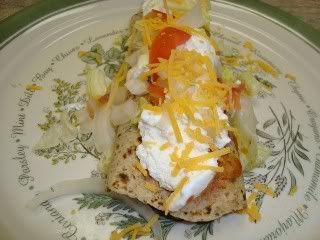 Wife will sometimes pile on some more of the veggies and sour cream on the top of her rollup and eat it that way. Either way, it is a wonderful treat.